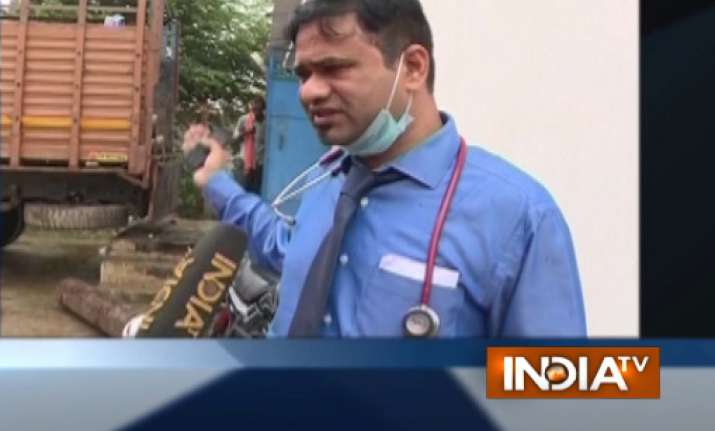 The Uttar Pradesh Pradesh Special Task Force (STF) today arrested Dr Kafeel Khan, who was in-charge of the encephalitis ward at BRD Medical College and Hospital in Gorakhpur, in connection with the deaths of several children last month, allegedly due to lack of Oxygen supply.
Kafeel Khan, the third prime accused in the case, was trying to flee the country possibly to Nepal when he was arrested, IANS reported by quoting its sources. 
Dr Kafeel Khan was sacked by the state government six days back for dereliction of duty and not adhering to the norms of the Indian Medical Council.
He is among those named in an FIR that was lodged on August 24 on directive of the state government in this case. 
Apart from Khan, BRD hospital principal Dr Rajeev Mishra, his wife Dr Purnima Shukla, head of anesthesia Dr Satish Kumar , chief pharmacist Gajanan Jaiswal and clerks Uday Pratap Sharma, Sanjay Kumar Tripathi and Sudhir Kumar Pandey are also named in the FIR.
A probe conducted by the district administration had revealed that Khan had taken leave without seeking proper permission on the day the hospital faced a shortage of oxygen supply. It was also found that Khan deliberately delayed informing his seniors about the shortage of supply.
Over 60 children lost their lives between August 10 and 14 at the Baba Raghav Das Medical College in Gorakhpur, the home constituency of Chief Minister Yogi Adityanath. At least 30 of them died within 48 hours due to shortage of oxygen supply. 
A court in Gorakhpur had issued non-bailable warrants against Dr Kafeel and others in connection with this case on Friday .
Dr Rajiv Mishra , the former principal of the college, and his medico-wife Purnima Shukla were sent to judicial custody for 14 days on Friday. 
Mishra has been accused of sitting over bills of the vendor supplying oxygen. Reports said despite an allocation of Rs 4.54 crore for the financial year 2017-18, Mishra did not clear a payment of Rs 63.65 lakh. His wife has been accused of stalling the payment by pressurising him.