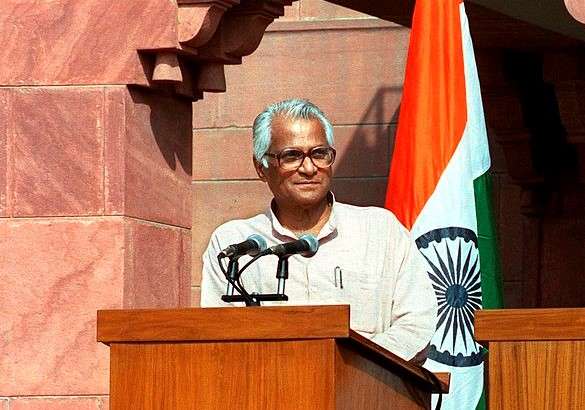 Former defence minister George Fernandes passed away at the age of 88, on Tuesday morning. He was ill since a long time. He was also suffering from Alzheimer's disease.
Prime Minister Narendra Modi expressed grief over his demise. 
"George Sahab represented the best of India's political leadership. Frank and fearless, forthright and farsighted, he made a valuable contribution to our country. He was among the most effective voices for the rights of the poor and marginalised. Saddened by his passing away," PM tweeted. 
Fernandes was a key member of the Janata Dal and was also the founder of the Samata Party. In addition to defence, he held several other ministerial portfolios including communications, industry and railways.
ALSO READ: Former Defence Minister George Fernandes passes away at 88
A native of Mangalore, he in 1949, moved to Mumbai, where he joined the socialist trade union movement. In the 1967 parliamentary elections, he defeated S K Patil of Congress from the South Bombay (now south Mumbai) constituency. 
During the Emergency era of 1975, Fernandes went underground while challenging Prime Minister Indira Gandhi for imposing a state of emergency. In 1976, he was arrested and tried in the infamous Baroda dynamite case.
Due to investment violations, during his tenure as union minister, he ordered American multinationals IBM and Coca-Cola to leave the country. 
During his tenure as railway minister from 1989 to 1990, he was the driving force behind the Konkan Railway project. 
Between 1998 and 2004, he was a defence minister in the National Democratic Alliance (NDA) Government, when the Kargil War broke out between India and Pakistan. 
During Fernandes' tenure, India conducted its nuclear tests at Pokhran. 
Fernandes had been surrounded by various controversies, including the Barak Missile scandal and the Tehelka affair. From 1967 to 2004, George Fernandes won nine Lok Sabha elections.
WATCH VIDEO: