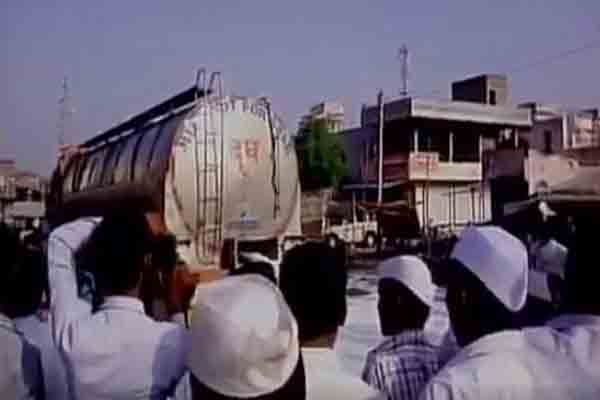 Farmers in Maharashtra today began an indefinite strike and curtailed the supply of vegetables, milk and fruits to big cities over demands for a crop loan waiver and better procurement prices. They have also emptied huge containers of milk on the roads in temple town Shirdi.
Indebted farmers are demanding a waiver on loans from the Maharashtra government (about Rs. 30,500 crore) similar to the Rs. 36,401 crores in debt forgiveness announced by Yogi Adityanath's UP government.
"Chief Minister Devendra Fadnavis will have a 'plan B' ready to face any situation if farmers stop sending vegetables and milk to Mumbai," news agency PTI quoted Maharashtra agriculture minister Pandurang Fundkar.
"We were forced to strike as the chief minister couldn't assure us that a loan waiver will be implemented quickly," said farmers' leader Dhanjay Jadhav, who met Chief Minister Devendra Fadnavis and other state representatives on Tuesday.
While, the farmers groups under Kisan Kranti Morcha, a farmers' body which is leading the protests, and believed to be close to the Shiv Sena, assures the peaceful strike, there were reports of violence coming from various parts of the state.
In Ahmednagar, a truck carrying vegetables was burnt down. In Satara, two milk tankers in were vandalised around midnight itself. In Nashik, the police had to resort to lathi-charge to bring the situation under control after trucks full of pomegranates and onions headed to different cities in the state were unloaded on the street. Wholesale markets in Nashik are also shut.
"Farmers have set up check posts on national highways to ensure vehicles carrying vegetables and fruits cannot enter the city," said a trader based at Vashi market on the outskirts of Mumbai.


Karan Gaykar of Kisan Kranti Morcha told reporters, "We demand that the government gives attention to farmers' demands. We are not getting anything for our produce so what's the point of selling it."
The morcha has given the government two days to act on this issue.
Although the movement of the agricultural goods has been restricted since midnight, the arrivals of the vegetables and fruits has been normal till now and the impact of the strike can only be estimated by the evening says the local traders of Pune and Vashi in Mumbai.
The idea for the strike originated in early April in Puntamba, a village near Shirdi in Ahmednagar district, when farmers decided at two gram sabhas that they would boycott markets from June if the government did not agree to their requests.