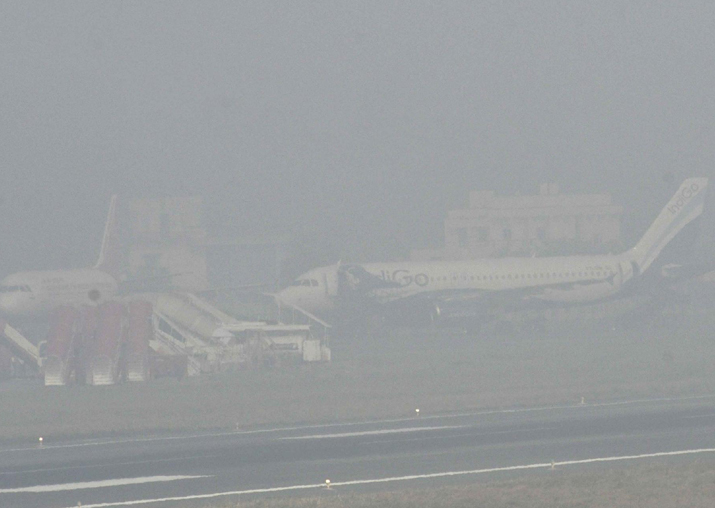 Flight operations at Delhi's Indira Gandhi International (IGI) airport was resumed at around 11 am after brief suspension following drastic drop in visibility due to dense fog.
According to news agency ANI, while five domestic and seven international flights were delayed, one flight was cancelled. At 8am, visibility at Safdarjung was 800m and at Palam it was 50m. At Vijay Chowk, the visibility was almost zero. 
Also rail and road services have been badly affected. As many as 20 trains have been rescheduled, while 15 others coming to the national capital cancelled. A total of 56 trains have also been delayed today due to poor visibility.
Operations at Delhi Airport, temporarily suspended due to low visibility, have now resumed. Many flights continue to be delayed pic.twitter.com/ofxjjGd6cH

— ANI (@ANI) January 1, 2018
On Sunday, the day Delhi experienced the season's worst fog, almost 220 flights were affected. Over 150 flights were delayed and nearly 50 were diverted. Around 20 flights were cancelled due to low visibility. No flights could take off from Delhi for nearly four hours between 7.30 am and 11.05 am. Take-offs from IGI airport require a minimum visibility range of 125 metres.
Visuals of area around the Indira Gandhi International Airport: Dense fog delays five domestic and seven International flights, one cancelled. #Delhi pic.twitter.com/lqS9xcZoQ8

— ANI (@ANI) January 1, 2018
According to India Meteorological Department (IMD), the maximum temperature was recorded at 23.9 degrees Celsius, four notches above the season's average while the minimum temperature was recorded a notch below the season's average at 6.4 degrees Celsius.
The weather department said that the minimum temperature on Monday would fall to 5 degrees Celsius. The maximum temperature is expected to hover around 23 degrees Celsius.
The IMD has also predicted that the mercury will start falling from January 1 with cold winds expected from the snow-covered mountains in the north.