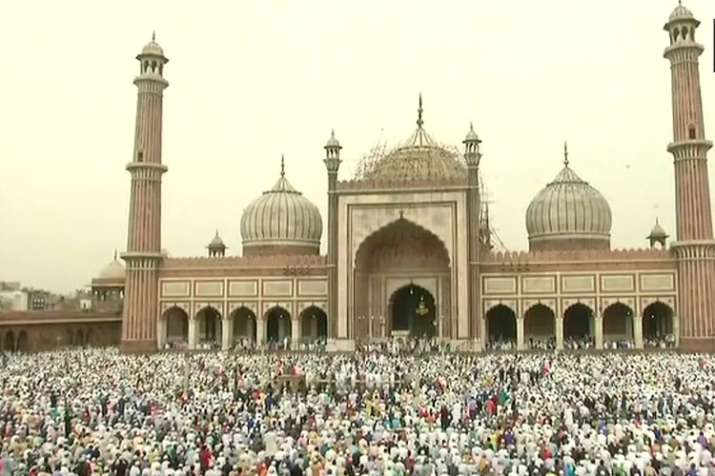 Eid-ul-Fitr or Eid, which marks the culmination of the holy fasting month of Ramzan, is being celebrated across the country on Saturday. Muslims across the country offered morning namaz kickstarting the festivities which will continue for a couple of days.
Wishing people on the occasion of Eid, President Ram Nath Kovind hoped that the festival would promote "fraternity and understanding in our shared society".  Prime Minister Narendra Modi too wished people on the occasion of Eid. "May this day deepen the bonds of unity and harmony in our society," PM Modi said.
"On the auspicious occasion of Idu'l Fitr, I offer my greetings and good wishes to all fellow citizens, and especially to our Muslim brothers and sisters in India and abroad," President Kovind said in his message. 
Eid Mubarak! May this day deepen the bonds of unity and harmony in our society. https://t.co/lSeBAUc6JW

— Narendra Modi (@narendramodi) June 16, 2018
सभी देशवासियों, खास तौर से देश और विदेश के हमारे मुस्लिम भाइयों और बहनों को ईद मुबारक। यह शुभ दिन आप सब के परिवारों के लिए खुशियां और जश्न लाए और हमारे साझा समाज में भाईचारे, आपसी सौहार्द और मेल-मिलाप को मज़बूत बनाए — राष्ट्रपति कोविन्द

— President of India (@rashtrapatibhvn) June 16, 2018
In Delhi, the traffic police has issued an advisory in the view of the Eid celebrations on June 16, 17 advising motorists to avoid certain sections of roads across the national capital.
People have been advised to avoid the following roads/routes on the occasion of Eid:
Bhairon Marg
Akbar Road
Mathura Road
Subramaniam Bharti Marg
Prithvi Raj Road
Shahjahan Road
Moti Lal Nehru Marg,
Ashoka Road
Rajender Prasad Road
K.G.Marg
Copernicus Marg
Tilak Marg
Purana Qila Road
Sher Shah Suri Marg
June 16, 2018
Meanwhile, the weather department has predicted that rain might bring relief for Delhiites from the sweltering heat on Friday. 
Delhi-NCR areas have been reeling under a haze of dust for the last few days owing to dust-laden winds. 
The weatherman has forecast partly cloudy sky for Eid with the possibility of rain/thunderstorm accompanied with thunder squall towards evening. The maximum and minimum temperatures would be around 40 and 32 degrees Celsius.
WATCH: Eid celebrations across India