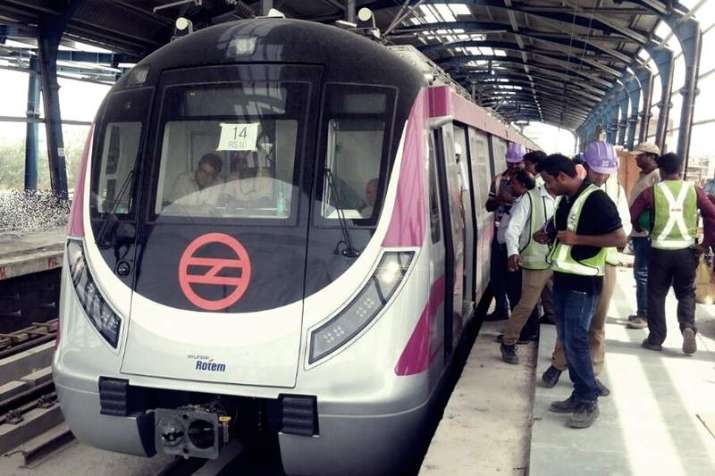 Delhi Metro's new Magenta Line will directly connect Kalkaji in South Delhi to Noida, and it has many firsts to its credit, including platform screen doors (PSDs) and a hi-tech signalling technology for movement of trains. 
The 12.64-km Magenta Line is part of the upcoming Botanical Garden (Noida) - Janakpuri West (Delhi) corridor. The section has nine Metro stations. Prime Minister Narendra Modi is scheduled to inaugurate the Magenta Line on December 25. 
"The new line would be officially launched by the Hon'ble Prime Minister in the afternoon at the newly-built Kallkaji Metro Station of the Magenta Line. From 5 PM it would be open to the public," Dayal said. 
Here are the ten key highlights of the Magenta Line that connects Kalkaji in South Delhi to Noida: 
1. This Line will have many firsts to its credit. For the first time in India, trains will run unattended. 
2. The platform screen doors (PSDs) are being used for the first time. PSDs are glass-made screens installed near the edge of platforms that open only when a train arrives and shut after it departs. They are installed to enhance commuter safety. 
3. A new-age technology, Communication Based Train Control (CBTC) signalling technology will be used that can facilitate movement of trains with a frequency of 90 to 100 seconds will also be pressed into service. 
4. Initially, the trains on Magenta Line will operate with the frequency of five minutes and 14 seconds. 
5. With the opening of new section, commuters will be able to travel directly to Kalkaji Mandir Metro Station from Botanical Garden in 19 minutes. The travel time Blue and Violet lines of the metro takes 52 minutes with interchange point at Mandi House station. 
6. The recent accident at the Kalindi Kunj metro depot was purely a "human error" during maintenance. 
7. Metro's new generation trains, which can run without drivers, will run on this section aided by the CBTC signalling technology. 
8. The trains would essentially be driverless, but there would be roving attendants. This mechanism will be there for a year or two. 
9. The DMRC will aks passengers feedback to remove those attendants, and make the trains fully driverless. 
10. The DMRC says that passengers safety is our utmost concern and it has been taken care of on this line". 
11. The 28-km stretch between Kalkaji Mandir and Botanical Garden costs Rs 50. Now, with direct connectivity, the ride has been reduced to 12 km, costing Rs 30. 
12. 10 trains would operate on this new line, while two would be kept on reserve. 
13. The coaches running on this line have LED information display, power charging capacity, including directly through USB ports, and colourful seats of different shades. 
14. The new stations have been tastefully decorated, reflecting themes of nature, Yoga, and cultural landmarks. At the new Kalkaji Mandir station, ceramic murals of Lotus Temple, ISKCON Temple and nature-themed artworks, and paintings showing birds have been displayed. 
15. Seven stations of the line are in Delhi -- Kalindi Kunj, Jasola Vihar, Shaheen Bagh, Okhla Vihar, Jamia Milia Islamia, Sukhdev Vihar,Okhla NSIC and Kalkaji Mandir. Two stations are in Noida -- Botanical Garden Metro station and Okhla Birds Sanctuary.
(With inputs from PTI)