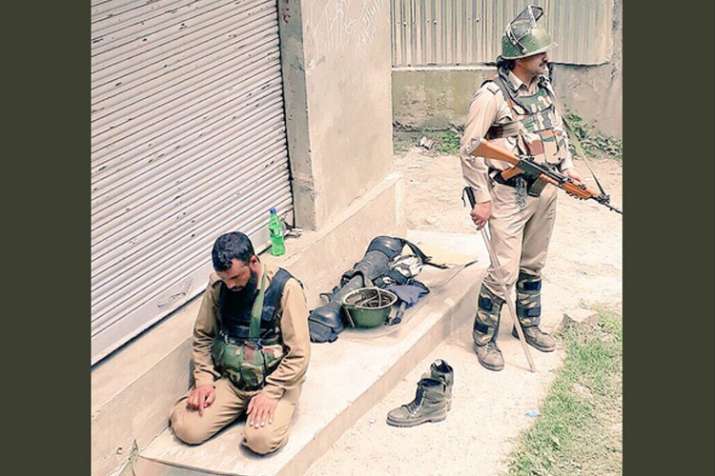 A picture showing the brotherliness between two jawans on duty posted by the Srinagar unit of the Central Reserve Police Force (CRPF) on its twitter handle - @crpf_srinagar - has gone viral and getting reactions on the micro-blogging platform.
The @crpf_srinagar published the picture of one jawan offering namaz while the other stands guard on July 29. Soon after the image appeared on CRPG Srinagar's Twitter handle, twitterati started sharing it and wrtining their messages on Twitter. 
The picture has now received 19,000 retweets and 7,700 likes in less than 48 hours since it was posted on Twitter. 
Below is the tweet posted by @crpf_srinagar on July 29
"Brothers-in-arms for peace" - CRPF Srinagar pic.twitter.com/QfsOIKbHoa

— Srinagar Sector CRPF (@crpf_srinagar) July 29, 2017
Take a look at how twitterati reacted on the picture showing camaraderie between two jawans on duty -  
Having each other's back at all times, proud to be an Indian. Love and care comes before religion.That's what we call a team @crpfindia ☺️👌 pic.twitter.com/m8tgnT8Qy3

— Shikhar Dhawan (@SDhawan25) July 30, 2017
A true colour of Secular n Nationalist CRPF guards for the freedom of religious faith n coexistence.

— Sanjay Sharma (@sanjay16sharma) July 29, 2017
Pic wid million of words n msg, it represnt what we're n real sprit of Harmony. Salute to armd force personal dat how dey save us @ any cost

— Prateek Asthana (@prateekasthana) July 29, 2017
Hand in hand, arms together, no discrimination, only a strong belief of being an Indian, flushing out the dirt of the society 🙏

— Vishwajeet Abhyankar (@abhyankar_vish) July 30, 2017
They are our jawans. .na Hindu na Musalman. .Soilders doesn't hv ny religions. .

— naveen kumar (@naveenkp) July 30, 2017
This picture, beyond doubt, proves India's secularism, enshrined in the Constitution, being upheld by the forces of India. #India

— Brutally Honest (@rakeshposwal) July 30, 2017
Love to see this beautiful example of respect and care for each other #JaiHind

— Mukesh Kumar (@iammukesh_) July 30, 2017
An Indian for an Indian. Fabulous click

— Rupak Dey (@06Rupak) July 30, 2017
This pic in itself is a slap to all those petty peeps who think they have divided us on several grounds. Well , you just cannot do it !

— Mohammad Mustafa (@Mustafa230294) July 30, 2017