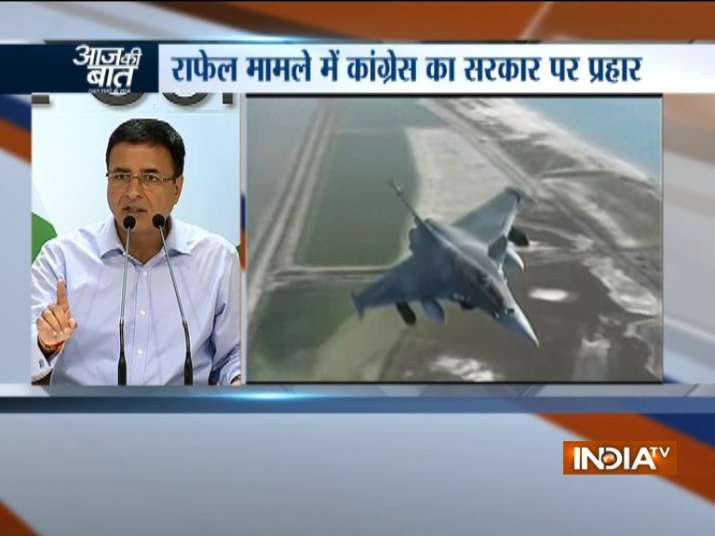 Further escalating its attack on Narendra Modi government over the Rafale jet deal, the Congress party on Friday accused Defence Minister Nirmala Sitharaman of "lying" on Reliance Defence Limited, which it said didn't have the experience in manufacturing fighter jets, having secured an offset contract from Dassault Aviation for Rs.30,000 crore and a consequent 'Lifecycle Cost Contract of Rs. 1 lakh crore in the Rafale deal.
Stressing that national interest was being compromised by the prime minister and the defence minister, Congress demanded that Modi must break his silence and reply to the nation if he represented the interest of private companies and industrial houses.
"Defence Offset Contract went to Reliance Defence Ltd, which had zero experience of manufacturing fighter aircrafts. Reliance Defence Limited had been constituted 12 days before (March 28, 2015) the announcement of purchase of 36 Rafale aircrafts by PM Modi in France on April 10, 2015," alleged Congress spokesperson Randeep Singh Surjewala citing a ministry of corporate affairs MCA services master data.
The party also alleged that Reliance Aerostructure Limited was given the license to manufacture fighter aircrafts by the Defence Ministry but it did not own any land or building on the date of the license, which is February 22, 2016. 
Watch: Congress intensifies attack on govt over Rafale deal
"What is even more surprising is the fact that even Reliance Aerostructure Limited was incorporated on April 24, 2015, which is 14 days after the announcement of purchase of 36 Rafale aircrafts by the prime minister," he added.
"Culture of crony capitalism is the DNA of Modi government. It is truer than ever in case of Rs 60,145 crore Rafale Deal," Surjewala said.
Citing a press release by Reliance Defence Limited and Reliance Infrastructure Investors Presentation, Surjewala said that Reliance Defence Limited claimed "to have secured the offset contract from Dassault Aviation for Rs.30,000 crore and a consequent 'Lifecycle Cost Contract' of Rs 1 lakh crore over 50 years." 
The leader also cited Dassault Aviation's Annual Report of 2016-17 which claimed that 'offset contract' was being executed by Reliance.
"On the contrary, Defence Minister Nirmala Sitharaman has claimed in a PIB press release dated February 7, 2018 that the 'offset contract has not been awarded by Dassault Aviation," Surjewala said. 
The PIB release stated: "No Indian Offset partner for the 2016 deal for 36 Rafale Aircraft has been so far selected by the vendor (DA)...".
Surjewala asked: "Who is lying? Defence Minister or Reliance/Dassault Aviation?"
He further said: "Can Reliance and Dassault Aviation sign an 'offset contract' of Rs.30,000 crore without the approval of the Defence Minister?" 
Surjewala said that "absence of approval for defence offset contract to Reliance Defence Ltd from the Defence Minister and Acquisition Manager of defence ministry and Defence Acquisition Council is in complete violation of contract guidelines."
He said that the public Sector Undertaking, Hindustan Aeronautics Limited (HAL), had signed a Rs 36,000 crore offset contract in shape of a 'Workshare Agreement' dated March 13, 2014. "Once Modi unilaterally announced an 'off-the-shelf' purchase of 36 Rafale aircrafts in April, 2015, HAL was suddenly denied the biggest ever Defence Offset Contract," Surjewala added. 
He also said art of deceiving India is the Modi government's mantra in this "mother of all defence deals." 
He said that "conspiracy, deception and loss to public exchequer have marred the unilateral purchase of 36 Rafale aircrafts by the government."
However, the BJP dismissed the Congress' fresh attack on the Modi government over the Rafale deal, saying it is repeating same claims in frustration after its allegations were "proved" wrong by Union ministers and also the French government.
BJP spokesperson Sudhanshu Trivedi also took potshots at the Congress over its attempt to build an alliance against the ruling bloc, saying its president Rahul Gandhi first claimed to be prime ministerial candidate and is now willing to support any candidate for the negative agenda of defeating Prime Minister Narendra Modi.
The BJP wants a 'majboot' (strong) government under Modi while opposition parties like Mayawati-led BSP want a 'majboor' (helpless) government, he told media persons.
Hitting out at the Congress over the Rafale fighter aircraft deal, he said it never allowed defence production in India so that it could strike "deals" with foreign suppliers and now levelling baseless allegations after the Modi government has worked to start domestic production.
Defence Minister Nirmala Sitharaman and Law Minister Ravi Shankar Prasad have given point-by-point rebuttal to the Congress' allegations, he said.
Trivedi also claimed that the BJP never levelled allegations against defence deals, saying it was members of Congress government or foreign countries which first alleged corruption in cases like Bofors deal or AgustaWestland chopper purchase.
Those levelling allegation should first hear defence experts and refrain from politicising such deals, he said. 
Taking a dig at Gandhi, he said the country saw his "entertainment" in Parliament, which was "full of action with childish behaviour in accordance with his political maturity".
People want a mature, talented and capable leader, he said.
What they (opposition) are doing is "betrayal" to the country as their single point agenda is removing Modi.
All Congress prime ministers were recognised as leaders only after they occupied the top post while the BJP gave prime ministers after the masses accepted them as their leaders, he claimed. 
Asked about the BJP ally Lok Janshakti Party escalating pressure on the government over Dalit issues, he said the government is sensitive to concerns of its allies and has been working to address them. 
To a question about demand of removal NGT chair A K Goel, he said the government would have taken a decision after considering all aspects but it is sensitive to alliance's concerns.