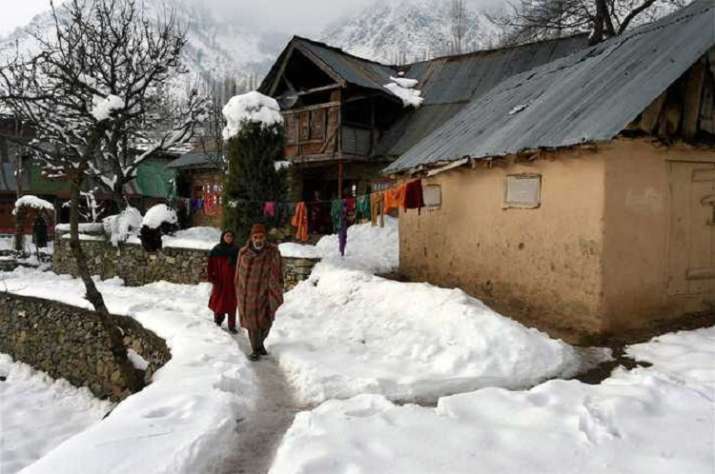 Uttarakhand continued to shiver under intense cold wave as snowfall continued intermittently in the hill tracts on Monday, officials said. The Regional Met Office has predicted more rains and fresh snowfall at some places in Kumayun region on Monday. The snow in the hill regions has also impacted weather in the plains as some places recorded a dip in mercury.
Mussoorie recorded a minimum of 3.6 degrees while Uttarkashi shivered at 3 degrees Celsius. Pithoragarh was the coldest with 1.4 degrees Celsius.
A severe cold wave tightened its grip over the Kashmir Valley and the Ladakh region as well on Monday, as temperatures dropped several notches below the freezing point.
Drass was recorded the coldest in Jammu and Kashmir, at minus 24.8 degrees Celsius. The maximum temperature in the town remained below the freezing point at minus 9.8.
Water bodies, including the water supply tapes in the valley remained frozen in Srinagar and elsewhere.
Srinagar recorded minus 4.0 degrees Celsius, Pahalgam minus 12.5 and Gulmarg minus 11.0 as the minimum temperatures on Monday.
Leh town recorded minus 11.8 degrees Celsius and Kargil minus 17.6 as the minimum temperature.
Jammu city recorded 5.6 degrees Celsius, Katra 4.2, Batote minus 1.1, Bannihal minus 0.1 and Bhaderwah minus 1.5 as the night's lowest temperatures.
Meanwhile, snowfall in the hilly areas also intensified the cold wave across Uttar Pradesh on Monday, forcing the closure of schools in the state capital and some other places, weather officials said.
The state witnessed rains on Sunday, which added to the winter chill. While it was expected to be sunny on Monday, the weatherman said the winter chill would continue for the next few days.
State Met Director JP Gupta informed that the sudden chill was due to a western disturbance over the Himalayas.
Scanty rains with thunderstorms at some places in the state were also predicted by the Regional Met Office.
Road, train, flight movements affected due to fog conditions / poor visibility
The Yamunotri and Gangotri highways in Uttarakhand were closed due to heavy snowfall and poor visibility, while communication to two dozen villages was disrupted.
More than four dozen trains were running behind their schedules and two others were cancelled. Fog has been reported from most highways and outskirts of cities and towns.
At least 13 trains and several flights arriving in Delhi were delayed due to fog as the visibility dipped to zero metres early on Monday.
According to the India Meteorological Department (IMD), the visibility dropped to zero metres for Palam between 6.30 a.m. and 7.30 a.m. while it was 200 metres for Safdarjung.
All flight arrivals and departures at Delhi's IGI Airport were also delayed due to fog conditions.
"Fog Alert - Low Visibility Procedures have been implemented at Delhi Airport... Passengers are requested to contact the airline concerned for the updated flight info," the official Twitter handle of the Indira Gandhi International Airport stated.
Bengaluru's Kempegowda International Airport also witnessed a delay in 20 flight arrivals and departures due to fog between 6 to 9 am.
Watch full news