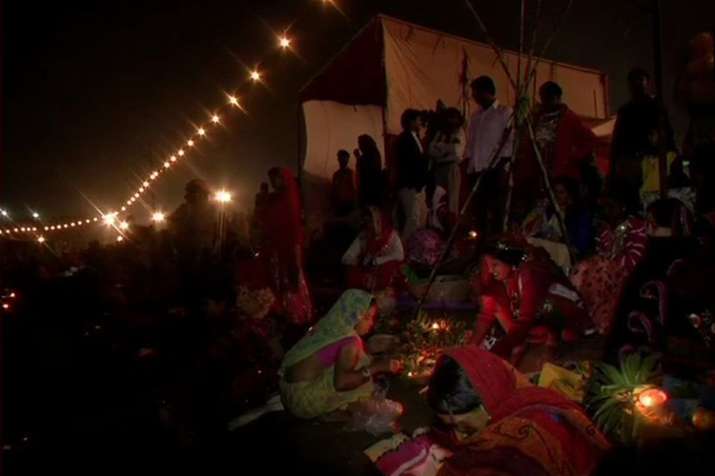 Chhath - the four-day mega festival - concluded on Wednesday morning with lakhs across India and world paying obeisance to the rising Sun. Devotees offered 'arhgya' to the rising Sun marking the end of the festival. 
Chhath is a major festival in eastern Uttar Pradesh, Bihar and Jharkhand, although it is celebrated in other parts of the country as well where Purvnanchalis are settled in significant numbers. | Chhath of Hindustan: In Pics
The festival is celebrated on the sixth day after Diwali. Chhath Puja relives the age-old tradition of paying obeisance to the Sun God.
The Delhi government had declared a public holiday on the occasion of Chhath. Huge crowds of fasting worshippers accompanied by their family members, relatives and friends thronged the ghats in all parts of the city. Agencies of the Delhi government  had set up ghats for Chhath at around 1,000 locations, officials said.
About 3,000 traffic police personnel were deployed at around 200 major intersections leading to the ghats, most of them in the central, north, east and southeast districts, to ensure smooth flow of vehicular movement. 
In Patna, all roads in the city led to the Ganga as lakhs of people made a beeline to the myriad ghats, all sparkling clean and decked up to receive the devotees taking part in Chhath Puja.
Bihar: Devotees offer 'arghya' to the rising sun at Patna College Ghat. #ChhathPuja pic.twitter.com/9MVzHZERRV

— ANI (@ANI) November 14, 2018
The fervour that had started building up with rituals like 'Nahay Khay' on Sunday, followed by 'Kharna" on Monday, hit a crescendo on Tuesday as the 'Chhath vratees', who observe a rigorous 36-hour fast and refuse to take even a sip of water as part of mandatory discipline for the occasion, made their journey to the ghats singing hymns in praise of the Sun god in local dialects like Bhojpuri, Maithili and Magahi.
Odisha: Devotees offer 'arghya' to the rising sun on the banks of Kuakhai river in Bhubaneswar. #ChhathPuja pic.twitter.com/peCLKk9wMo

— ANI (@ANI) November 14, 2018
While not all members of a family observe the grueling 36-hour-long 'nirjala' (without water) fast, there are a number of austerities which every relative of a 'Chhath vratee' is required to observe for the four-day period.