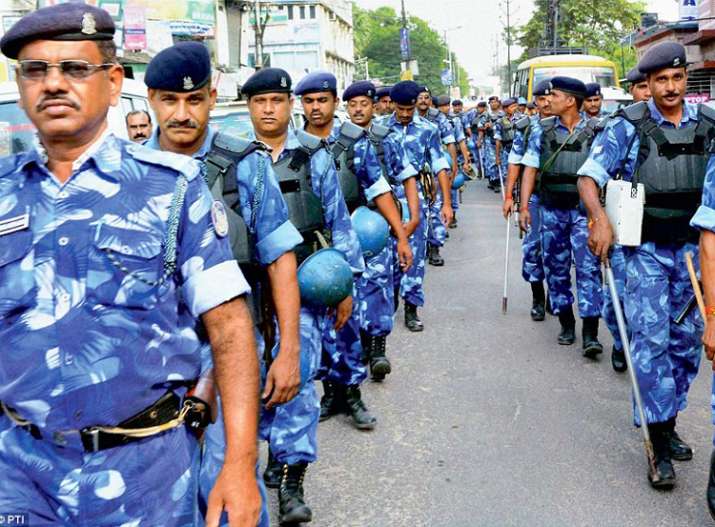 The Union Home Ministry today told the Election Commission that it will provide around 85,000 security personnel for deployment in the upcoming assembly elections in five states, including politically crucial Uttar Pradesh. 
The poll body had asked the Home Ministry to make available one lakh personnel for deployment during the Assembly elections expected to be held in next two months.
At a high-level meeting with the Election Commission today, top officials of the Ministry led by Union Home Secretary Rajiv Mehrishi conveyed that it would provide around 750 companies of paramilitary forces for smooth conduct of the election process in the five states. 
In addition, around 100 companies, most of which belonging to State Armed Police Forces and India Reserve Battalions, will also be drawn from different states for deployment of election duties, official sources said. 
A company of paramilitary force comprises of around 100 personnel. 

 

In addition to the central forces, police forces of all states will be deployed for the election duties. 
A spokesperson of the Election Commission said the poll body had a detailed meeting with senior officers of Ministry of Home Affairs, CRPF and Chairman Railway Board to find tune central paramilitary forces deployment and their movement during forthcoming five states assemblies elections. 
Assembly elections in Punjab, Uttarakhand, Goa and Manipur are expected to be held in single phase while in Uttar Pradesh it is likely to be multi-phased. 
The schedule for the polls is likely to be announced by the EC in next few days. 
Meanwhile, the Election Commission spokesperson said the poll body has conveyed a meeting of the Chief Electoral Officers of the five poll-bound states tomorrow.
(With PTI inputs)