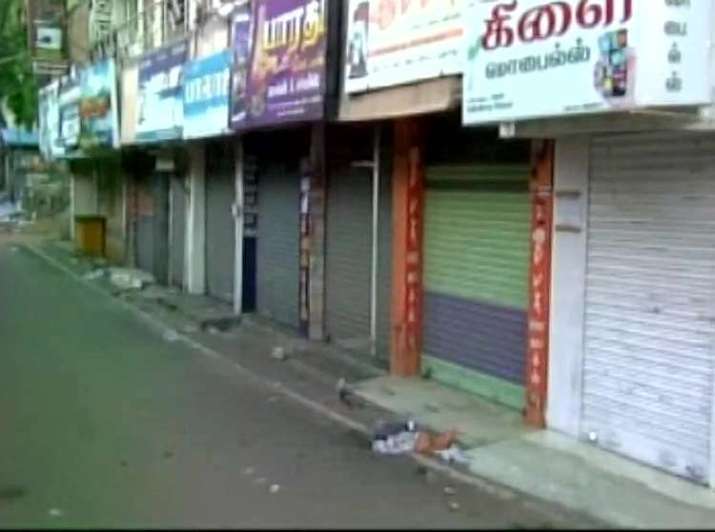 Tamil Nadu is today witnessing a state-wide shutdown after various organisations representing farmers, traders, transporters called for one-day bandh to protest against the ongoing violence against Tamils in Karnataka over the Cauvery issue. 
The strike began today with mixed results. 
The general strike called by different organisations demanded Cauvery river water and protested against attacks on Tamils and their property in Karnataka.
Opposition parties led by the Dravida Munnetra Kazhagam (DMK) have also declared their support for the bandh. DMK president M Karunanidhi issued a statement urging all members of the party to support the shutdown.
Chennai: DMK workers stage protest over #Cauvery water dispute row, DMK leader Kanimozhi also present pic.twitter.com/8B4qNYE2Fh

— ANI (@ANI) September 16, 2016
Thanjavur (TN): #TamilNaduBandh over #CauveryIssue disrupts normal life, shops and schools remain closed. pic.twitter.com/BIsr9WddlP

— ANI (@ANI) September 16, 2016
Workers of Vijayakanth-led Desiya Murpokku Dravida Kazhagam (DMDK) will hold a hunger strike at the party headquarters in Chennai. 
While public transport, government offices, schools, colleges, banks and others carried on with their routine, majority of shops remained closed across the state.
Many private schools also declared holiday.
The vegetable wholesale market in Koyambedu here was closed.
Cadres of some political parties trying to stop trains in some places were taken into custody by the police.
However, essentials like milk delivery by the state government undertaking -- Aavin was not affected.
Privately owned fuel outlets remained shut but those owned by the oil marketing companies were functioning.