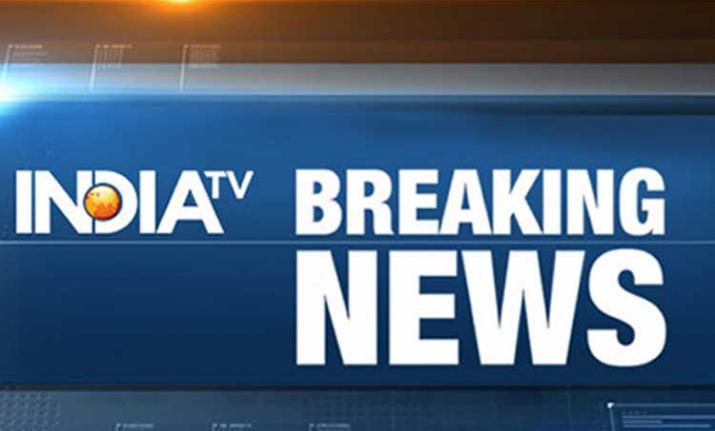 Daily dose of news plays very important role in our daily life. For some people, the morning is incomplete without knowing about what's happening across the world. Some digital-savvy people have a habit of consuming news even when they are travelling or in their free time. In today's world, where people rely on news websites for everything that's happening around, IndiaTV News provides you all breaking news, latest news, breaking story videos, Live TV and top shows of IndiaTV, country's leading news channel on a single platform to ensure you don't miss anything important.
Internet, Twitter, Facebook are buzzing with breaking news and news alerts from India and rest of the world. You can find here all breaking news alerts and latest news updates on just one page. IndiaTV Digital covers all top news as and when it happens and ensures its readers don't miss anything important.
BREAKING NEWS OF OCTOBER 13
4:23 pm: Odisha Chief Minister Naveen Patnaik today conducted an aerial survey of the flood-affected districts of Ganjam, Gajapati and Rayagada in wake of CycloneTitli.
4:11 pm: National Investigation Agency (NIA) seized fake currency of face value Rs 96,000 from two persons in Mumbai yesterday. Case registered under section 34, 489D & 489C of Indian Panel Code.
4:07 pm: Congress President Rahul Gandhi meets Karnataka Chief Minister HD Kumaraswamy in Bengaluru
3:55 pm: At least 12 people including an NDS officer and policeman were killed and 32 others were wounded in an explosion at election rally of a female candidate in Rostaq district of Takhar province, on Saturday afternoon, police confirmed
3:51 pm: Voter turnout recorded till 2 pm in Baramulla-72.7%, Samba-73.9%, Anantnag-2.7% and Srinagar- 1.5%, during the third phase of local body polls in Jammu and Kashmir
3:42 pm: Indian Naval Diving team undertakes rescue and relief operation at Aksa village in Ganjam district following Cyclone Titli
3:29 pm: 8 people including 5 women and 3 children killed in a car accident in Udaipur district's Salumbar, police present at the spot
3:17 pm: Brijesh Mishra, the main accused in the murder of BJP leader Visheshwar Ojha has been arrested.
3:00 PM: Zika scare in Jaipur, Rajasthan, over 50 people tested positive
12:36 PM: Andhra Pradesh CM N Chandrababu Naidu writes to Prime Minister Narendra Modi requesting him to release an interim relief amount of Rs 1200 Crore after north coastal region of the state including Srikakulam and Vizinagaram districts were affected due to #CycloneTitli 
12:00 PM: Congress Chhattisgarh working president and Pali-Tanakhar MLA, Ramdayal Uike joined BJP in presence of Amit Shah and CM Dr.Raman Singh
11:40 AM: IT dept recovers Rs 35 lakh in cash and papers during raid at Delhi Minister Kailash Gahlot's residence.
11:17 AM: Police has registered case against actor Kollam Thulasi for his speech at a sabrimala verdict protest rally yesterday. He had said 'Women coming to Sabarimala temple should be ripped in half. One half should be sent to Delhi and other half should be thrown to CM office' #Kerala
11:17 AM: Alok Nath has filed a defamation case against writer-producer Vinta Nanda, who had accused him of rape
11:00 AM: Nepal police says 5 South Korean climbers and 4 Nepali guides missing on Gurja Himal mountain after a heavy storm: AP
09:33 AM: Legendary Hindustani classical musician Annapurna Devi dies in Mumbai hospital
08:20 AM: Depression over Odisha moved east northeastwards with a speed of 23 km lay centred at 0230 hrs of today over North Odisha and adjoining West Bengal about 70km north of Digha: MeT Dept #TitliCyclone
07:50 AM: Pulwama Encounter: One terrorist has been gunned down by security forces, arms and ammunition recovered
07:40 AM: Delhi's air pollution continues to remain severe, Air Quality Index crosses 690 mark in Anand Vihar
06:34 AM: Baramulla: Policeman Javid Ahmed lost his life in an attack by terrorists at Warpora in the outskirts of Sopore last night.
06:30 AM: Pulwama: Encounter underway between terrorists and security forces in Babgund. More details awaited.
06:00 AM: Petrol and diesel prices in Delhi are Rs 82.66 per litre (increase by Rs 0.18) and Rs 75.19 (increase by Rs 0.29) respectively. Petrol and diesel prices in #Mumbai are Rs 88.12 per litre (increase by Rs 0.18) and Rs 78.82 per litre (increase by Rs 0.31) respectively.