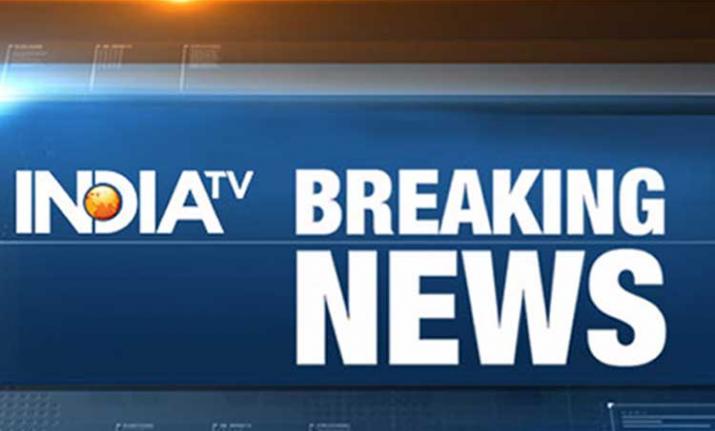 Daily dose of news plays very important role in our daily life. For some people, the morning is incomplete without knowing about what's happening across the world. Some digital-savvy people have a habit of consuming news even when they are travelling or in their free time. In today's world, where people rely on news websites for everything that's happening around, IndiaTV News provides you all breaking news, latest news, breaking story videos, Live TV and top shows of IndiaTV, country's leading news channel on a single platform to ensure you don't miss anything important.
Internet, Twitter, Facebook are buzzing with breaking news and news alerts from India and rest of the world. You can find here all breaking news alerts and latest news updates on just one page. IndiaTV Digital covers all top news as and when it happens and ensures its readers don't miss anything important.
BREAKING NEWS OF OCTOBER 30:
4:53 pm: Indore is no less than Mumbai. Go to US & ask someone names of 4-5 Indian cities. They'll say Bengaluru, Hyderabad, Delhi&Mumbai. Why not Indore? Go to US after 5 yrs, Indore will be in the list, Congress will work&show you. The same will be done for Bhopal: Rahul Gandhi in Khargone
4:50 pm: Earlier the slogan was 'Achhe Din'... Modi ji used to say 'Achhe Din', public used to say 'Aaenge'. Then came 'Suit Boot ki sarkar'. The next was 'Suit Boot Jhooth ki Sarkar' now the slogan is 'Suit Boot Jhooth aur Loot ki Sarkar: Congress President Rahul Gandhi in Khargone, MP
4:30 pm: Our goal to ensure that results of the Research & Development programmes do not get limited to research centres only, but reach the public. That's why I say that science is universal, but technology has to be local:  Prime Minister Modi at India-Italy Technology Summit in Delhi
4:15 pm: Digital payments are increasing at a speed of 250 crore transactions per month. In the past 4 years in India, the price of 1 GB data has reduced by more than 90 per cent: Prime Minister Narendra Modi at India-Italy Technology Summit in Delhi
3:50 pm: For air connectivity, 1.5 years ago, there were only 3 airports functional in the state. Today along with these 3 airports, we have functional airports in Prayagraj, Agra&Kanpur. In coming times, under UDAN scheme, we will build 11 more new airports in UP: CM Yogi Adityanath​
3:45 pm: Enforcement Directorate Court rejects Vijay Mallya's counsel Amit Desai's application to stay ED's decision to declare Mallya a 'Fugitive Economic Offender'; Next date of hearing in the case is November 22.
3:30 pm: Earlier,the NIA had given me a clean chit. Now,charges have been framed against me.This was a conspiracy by Congress but I am confident that I'll come out innocent as the truth always wins: Sadhvi Pragya Singh Thakur, on framing of charges against her in 2008 Malegaon blasts case
3:15 pm: Finance Minister Arun Jaitley chaired Financial Stability Development Council (FSDC) meeting today.  
02:45 pm: Delhi High Court has adjourned the hearing in the petition filed by Dubai based banker Manoj Prasad for Nov 1. He had challenged his arrest citing the petition of CBI's Rakesh Asthana and Devender Kumar seeking quashing of the FIR.
02:40 pm: We have made Bharatiya Janata Party aware of what our party & supporters want for seat-sharing (in 2019 Lok Sabha polls). They said we will hold discussions. Discussions were positive but nothing has been finalised yet: Union minister and RLSP president Upendra Kushwaha
02:20 pm: Encounter breaks out between security forces and terrorists in Chaanketaar village of Pulwama's Tral. J&K Police said terrorists fired on searching party during a cordon & search operation in the area. #JammuAndKashmir
02:10 pm: 2008 Malegaon blasts case: All seven accused pleaded not guilty after framing of charges
01:51 pm: 2008 Malegaon Blasts case: NIA court rejects Lt Col Purohit's plea of deferring the framing of charges and said that the charges are ready, it will frame the charges today itself.
01:50 pm: From Nov 1 our graded action response plan will be implemented. Let us hope Delhi air pollution situation doesn't deteriorate or else will have to stop plying of private vehicles, only public transport will be used: Bhure Lal, Chairman, Environment Pollution Control Authority
01:13 pm: Italian Prime Minister Giuseppe Conte meets Prime Minister Narendra Modi in Delhi.
12:45 pm: Doordarshan cameraperson, two jawans killed by Naxals in Dantewada
12:31 pm: Chhattisgarh: Doordarshan crew attacked by Naxals in Dantewada's Aranpur. More details awaited. (ANI)
12:12 pm: Mumbai: Level-3 fire breaks out in a slum at Lalmati, opposite Bandra Fire Station on Nagardas Road. 9 Fire tenders at the spot. 
12:04 pm: AAP Punjab Core Committee announces 5 candidates for 2019 Lok Sabha Elections: Bhagwant Mann (Sangrur), Professor Sadhu Singh (Faridkot), Dr. Ravjot Singh (Hoshiarpur), Kuldeep Singh Dhaliwal (Amritsar Sahib) & Narinder Singh Shergil (Anandpur Sahib).
12:03 pm: Madhya Pradesh: BJP MLA from Tendu Kheda in Indore, Sanjay Sharma joins Congress.
11:32 am: Malegaon 2008 blasts case: Framing of charges deferred till 1 pm by NIA Court 
11:26 am: Italian Prime Minister Giuseppe Conte arrives in India, to hold talks with Prime Minister Narendra Modi and take part in the India-Italy Technology Summit, today
11:21 am: Supreme Court today said, we would hear the petition in due course of time and refuses to give an urgent hearing to a petition filed by lawyer and BJP leader, Ashwini Upadhyay, seeking early deportation of illegal Rohingyas and Bangladeshis to their respective countries
11:20 am:Jammu And Kashmir : National Investigation Agency (NIA) raids underway at the house of a businessman, Fayaz Ahmad, in Srinagar's Lal Bazar in connection with a terror funding case. (ANI)
11:19 am: Supreme Court allows Sathish Sana, the complainant in Rakesh Asthana bribery case, to seek police protection as he alleged threat to his life. Supreme Court also refuses to stay CBI notice asking Sana to join the investigation
10:52 am: CBI officer AK Bassi who was investigating Special Director Rakesh Asthana moves Supreme Court challenging his transfer. Supreme Court refuses to give an urgent hearing. (ANI)
09:30 am: Markets open at choppy note, Sensex sheds 130.16 points on opening trade
08:05 am: Earthquake measuring 6.2 on the Richter scale strikes near New Plymouth, New Zealand: USGS
07:04 am: Air Quality Index (AQI) of Delhi's Lodhi Road area; prominent pollutants PM 2.5 at 280 and PM 10 at 280 both in 'poor' category
06:30 am: Petrol & diesel prices in Delhi today are Rs 79.55 per litre (decrease by Rs 0.20) & Rs 73.78 per litre (decrease by Rs 0.07),respectively. Petrol & diesel prices in Mumbai today are Rs 85.04 per litre(decrease by Rs 0.20) &Rs 77.32 per litre (decrease by Rs 0.08), respectively
06:02 am: Earth's wild animal population plummets 60 percent in 44 years, reports AFP quoting WWF (World Wide Fund for Nature).