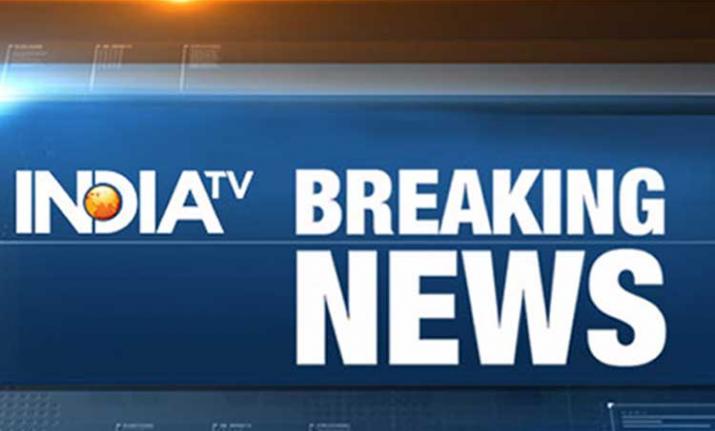 Daily dose of news plays very important role in our daily life. For some people, the morning is incomplete without knowing about what's happening across the world. Some digital-savvy people have a habit of consuming news even when they are travelling or in their free time. In today's world, where people rely on news websites for everything that's happening around, IndiaTV News provides you all breaking news, latest news, breaking story videos, Live TV and top shows of IndiaTV, country's leading news channel on a single platform to ensure you don't miss anything important.
Internet, Twitter, Facebook are buzzing with breaking news and news alerts from India and rest of the world. You can find here all breaking news alerts and latest news updates on just one page. IndiaTV Digital covers all top news as and when it happens and ensures its readers don't miss anything important.
BREAKING NEWS OF NOVEMBER 10:
4:00 pm: Not only the Muslims in Karnataka but Muslims across the country are not against Ram Mandir. Build Ram Mandir but our mosque which was martyred should also be made. We are not against Ram Mandir, we are just demanding our right: BZ Zameer Ahmed Khan, Karnataka Minister.​
3:27 pm: Congress today released its election manifesto,they only release manifestos but never fulfil them. Even Indira ji&Rajiv ji had promised to remove poverty but didn't do it. Their promise was fulfilled by Shivraj Singh Chouhan&PM Modi that is why Congress is angry: MP CM in Anuppur
3:01 pm: My message is for Kashmiri youth to join mainstream as it is better for them as well as the country. During operations, if a local terrorist is ready to surrender we'll give them an opportunity to do so: AK Bhatt, GOC Army's 15 Corps
2:47 pm: In the EC meeting held today, the Commission has only decided to call for a panel of names for the post of State Chief Electoral Officer, from Chief Secy of Mizoram. Further steps to only be taken after receiving report of the visit by Dy Election Commissioner's team to the state
2:30 pm: Maine pichhli baar yahan aakar kaha tha Bhagwan Ram ke nanihaal mein jab Bhagwan ka mandir ban jaega to janmbhoomi mein bhi mandir avashya ban jaega aur main dhanyawaad doonga Chhattisgarh vaasion ka ki unhone Raipur mein Bhagwan Ram ka ek bhavya mandir ka nirmaan kiya hai:UP CM  
2:00 pm: On the basis of a specific info search operation was launched. In a brief shootout 2 terrorists were killed. They belonged to Hizbul Mujahideen. Arms and ammunition have been recovered. There was no collateral damage in the encounter: SP Pani, IGP Kashmir on today's Pulwama Encounter
1:21 pm: Indian Army and Nehru Sidhant Kendra Trust have entered into a MoU for offering education scholarship to children of deceased soldiers. The MoU will extend financial support to 100 children of deceased soldiers of the Indian Army every year
12:52 pm: Pakistan violated ceasefire in Sunderbani sector around 9.45 am today. One Army jawan was injured in the unprovoked firing by Pakistan & later succumbed to his injuries.
12:38 pm: Chhattisgarh was the first state to have a legislation on skill development: BJP President Amit Shah in Chhattisgarh's Raipur
12:25 pm: Be it Chhattisgarh,Jharkhand,north-eastern states or Kashmir,Congress did politics at the cost of national security.But for BJP,national security is top priority. We never tolerated threat to national security. No one has liberty to toy with national security: UP CM #Chhattisgarh
12:18 pm: Raman Singh government has changed the state in the past 15 years and has been successful in containing Naxalism: BJP President Amit Shah in Chhattisgarh's Raipur
12:09 pm: Hubli: Police have detained BJP workers led by BJP MP Prahlad Joshi heading towards Mini Vidhana Soudha to protest against 
12:04 pm: We will reduce the electricity bill of farmers by 50%, reduce diesel & petrol prices and open 'Gaushalas' in every Gram Panchayat among other things mentioned in our election manifesto: Madhya Pradesh Congress Chief Kamal Nath, in Bhopal
12:11 pm: For the 1st time after independence a PM announced that by 2022 no poor in India will be without a house. Had there not been a BJP govt at the centre, people in Chhattisgarh wouldn't have received the houses which they're receiving now: UP CM Yogi Adityanath in Lormi,Chhattisgarh
11:56 am: Kerala High Court seeks direction from the state govt on taking the case against BJP Kerala state President PS Sreedharan Pillai. He had filed a petition before the court for quashing the FIR registered against him by Kerala police in connection with his speech on Sabarimala.
11:37 am: This is all a drama to distract the backward & oppressed whenever they raise their voices to demand their rights. No one else has given the things which Muslims gave. Should we throw away GT Road? Who built the Red Fort? Who built the Taj Mahal?: UP Minister OP Rajbhar
11:32 am: BJP changed the names of Mughalsarai & Faizabad. They say they were named after the Mughals. They have a National Spokesperson Shahnawaz Hussain, Union Minister Mukhtar Abbas Naqvi, UP Minister Mohsin Raza - 3 Muslim faces of BJP, change their names first: UP Minister OP Rajbhar
11:28 am: Congress releases manifesto for Madhya Pradesh Assembly elections.
10:59 am: Police has registered a case under section 304 IPC in connection with the road accident in Punjabi Bagh in which one person died and a woman and a minor were left injured last night.
9:07 am: Madurai-Colombo SG 9003 SpiceJet flight scheduled for 12.50 am last night departed around 9.50 am today. Passengers say "Since 2.30 am they were telling us of the delay, told us it'll take off at 7 am but it was delayed too. There was no arrangement" 
8:49 am: 2 terrorists have been killed in the encounter between security forces and terrorists in Tikun village of Pulwama district. Incriminating materials including arms and ammunition have been recovered from the site of encounter.
8:44 am: Various groups protesting against #TipuJayanti celebrations in Madikeri offer prayers at Sri Omkareshwara Temple in the town. They will then carry out a procession against the celebrations, which are being observed in the state today.
8:27 am: Delhi's RK Puram is at 278 under 'Very Unhealthy' category, in the Air Quality Index
8:12 am: Jammu & Kashmir: Encounter breaks out between security forces and terrorists at Tikun village of Pulwama district in South Kashmir; More details awaited
8:07 am: Delhi's Anand Vihar at 533 and area around PGDAV College, Sriniwaspuri at 422 under 'Hazardous' category & RK Puram at 278 under ' Very Unhealthy' category, in Air Quality Index
7:55 am: This (BJP) govt has no idea of the recent history of this country. It's the Congress party that lost its entire state leadership in Chhattisgarh to Naxal violence. Do they even know how to fight Naxalism? They can only play politics around it: Congress leader Pawan Khera
7:37 am: According to the Air Quality Index (AQI) data, major pollutant PM 2.5 is at 407 (severe) and PM 10 at 277 (Moderate), in Lodhi Road area
7:00 am: Petrol and diesel prices in Delhi are Rs 77.89 per litre (decrease by Rs 0.17) and Rs 72.58 per litre (decrease by Rs 0.16), respectively. Petrol and diesel prices in Mumbai are Rs 83.40 per litre (decrease by Rs 0.17) and Rs 76.05 (decrease by Rs 0.17), respectively.
6:22 am: Checking continues at borders entry points for the second day as the entry of Heavy & Medium goods vehicles into Delhi was banned from 11.00 pm of 9th November to 11.00 pm of 11th November in view of pollution. 
6:07 am: Fire broke at a slum in Rohini Sector 26 last night. Police investigation underway; Moti Nagar Fire Station Officer says, "Around 100-150 houses burnt. No injuries took place. Prima facie, there is some personal dispute behind this incident"
6:05 am: According to the Air Quality Index (AQI) data, major pollutant PM 2.5 is at 431 (severe) and PM 10 at 283 (poor), in Delhi's Lodhi Road area.
6:00 am: Woman dead, a man & a child critically injured in a collision between three vehicles at Punjabi Bagh flyover late last night. More details awaited. Police investigation underway