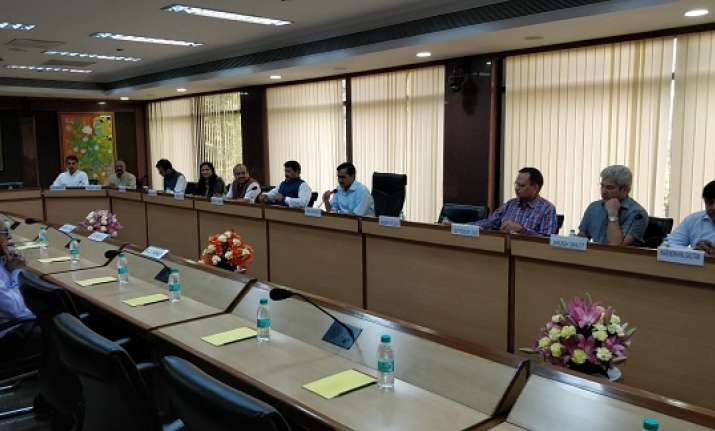 The ruling Aam Aadmi Party (AAP) along with the BJP and the Congress on Wednesday met members of the Supreme Court-appointed monitoring committee and sought immediate relief for traders in Delhi from the sealing drive, but the panel did not give any assurance in this regard.
 
The sealing drive by the BJP-run municipal corporations in Delhi was initiated in December last year on the direction of the apex court-appointed monitoring panel. Commercial premises, including shops and restaurants, were sealed for failing to deposit 'conversion charges' according to provisions in Delhi Master Plan 2021. 
The all-party meeting with the monitoring committee members held at Delhi Secretariat was attended by Chief Minister Arvind Kejriwal and Delhi BJP chief Manoj Tiwari and other leaders. 
The committee members, Bhure Lal and K J Rao, heard the suggestions and complaints of the leaders during the meeting.
 
After the meeting, Tiwari said, "We all wanted an end to the chaos caused by the sealing drive and sought its suspension. But the monitoring committee members did not say anything about it." 
The parties wanted suspension of the sealing drive as the Supreme Court is going to hear on day-to-day basis, from April 2, a case on amendment of Master Plan of Delhi by the DDA that was earlier stayed by the court, Tiwari said. 
The chief spokesperson of the AAP's Delhi unit said the monitoring committee clarified that sealing of shops was not being done in urban villages, unauthorised colonies and village abadi covered by the National Capital Territory of Delhi Laws (Special Provisions) Act. 
"They (panel members) expressed surprise when complaints of sealing in these areas was raised by AAP MLAs and others. They clarified that no sealing of shops is being done in areas covered by the Special Provisions Act," he said. 
The parties also agreed to hire top lawyers for representing the stand of the Centre, the Delhi government and the municipal corporations before the Supreme Court. tre and the Delhi government before the Supreme Court. In 2006-07, best lawyers were hired by Congress government to represent its case in the apex court and sealing was stopped." 
This was the second all-party meeting called by the Delhi government over sealing issue. Delhi Congress president Ajay Maken, who had participated in the earlier meeting held on March 13, abstained from today's meeting. 
The BJP had boycotted the previous meeting in protest against the alleged misbehaviour by AAP leaders and workers with a saffron party delegation, including Manoj Tiwari, that had gone to Chief Minister Arvind Kejriwal's residence to discuss the sealing issue in January. 
This time, Tiwari attended the meeting along with Leader of Opposition in Delhi Assembly Vijender Gupta and Kamaljeet Sehrawat, the mayor of BJP-ruled South Delhi Municipal Corporation. 
Deputy Chief Minister Manish Sisodia and AAP MLAs Somnath Bharti, and Saurabh Bhardwaj were also present at the meeting.