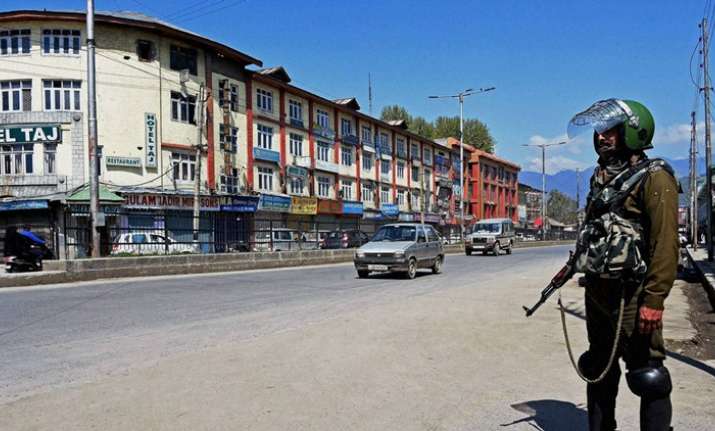 After burning down at least 20 schools in the Valley in the past three-and-a-half months, the Lashkar-e-Taiba has now threatened banks in Kashmir. 
According to a Times of India report, Lashkar posters which have appeared in parts of south Kashmir have said that bank managers must shut their branches in keeping with the Hurriyat protest calendar and do business only after 5 pm. 
On Wednesday, unidentified gunmen looted over Rs 2 lakh in cash from a bank in Jammu and Kashmir's Kulgam. Also, one loaded ATM machine was taken away by gunmen from central Kashmir few days ago. 
While most of the J&K bank branches across the Valley are closed, few of them are still functioning in Srinagar from 7 am till 11 am.
According to the report, posters of the terror group were seen on electric poles, walls and shops in various villages in south Kashmir's Kulgam district, including Tolinopora, Muhammadpora, Panew, Bogam, Koimoh, Kulgam market, Bogund, katrosu, and Srindu.

 
The posters, carrying seal and signature of the LeT district commander, have warned deputy commissioners of dire consequences if they force government employees to resume their duties. 
"People who try to defy Hurriyat strike calls will not be spared. People can do their business only during relaxation hours called by the Hurriyat. We warn deputy commissioners that they should stop forcing employees to attend to duties, and we also warn bank managers not to open their branches during strike hours," Times of India quoted the poster as saying. 
The terror outfit, in another statement, said it will implement a new strategy  to take the ongoing "freedom struggle in Kashmir" forward. 
In the past three-and-a-half months, since the death of Hizbul Mujahideen commander Burhan Wani, at least one school in each of Kashmir's 10 districts have either been burnt or suffered damages in fires.
At least six schools were burnt in the last six days alone with the latest being Baramulla.