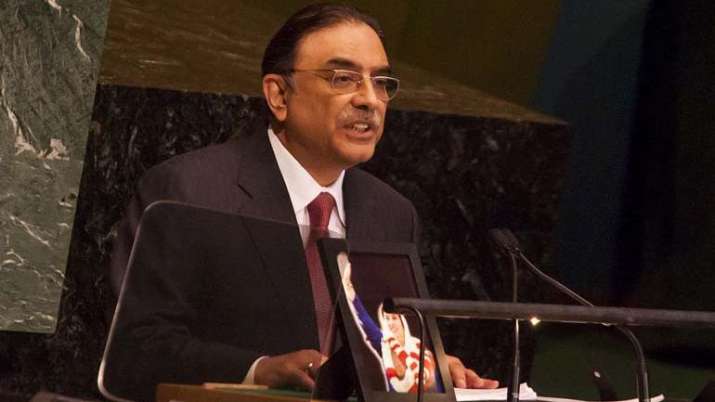 Politics over the Pulwama terror attack erupted in Pakistan today as former Pak president Asif Ali Zardari slammed Prime Minister Imran Khan's way of handling India's allegations that Islamabad was providing safe havens to the terrorists.
Zardari said Khan was immature and did not know how to handle international politics. "During my tenure, the Taj Hotel in Mumbai was attacked. But back then, we handled the issue amicably. This time around, the prime minister [Imran Khan] is pretty immature. He does not know what to do. He is, in fact, a back seat driver and is acting at the behest of others. That's why the situation is getting worse," Zardari told ARY News.
Zardari was the president of Pakistan when, in 2008, Mumbai was attacked by the Lashkar-e-Taiba (LeT). The LeT, a Pakistan-based group, opposes Indian rule in Kashmir. Zardari, at that time, had promised the then US secretary of state, Condoleezza Rice, that his government would take a "strong action" against Pakistani elements implicated in the Mumbai attacks, as opposed to Imran Khan's clear dismissal of Islamabad's involvement in the Pulwama terror attack.
Over 40 CRPF personnel were killed in the terror attack in Jammu and Kashmir's Pulwama on February 14, drawing condemnation for Pakistan from across the world.
Pakistan, however, maintains that it was not involved anyhow in the attack and will take an action against India, if it continues with its blaming spree. 
Asif Ali Zardari further said, "We, however, still support the Army and if India plans to carry out any misadventure against us, we will be together and fight against it."
Even, PPP chairman and Zardari's son, Bilawal Bhutto Zardari, also said Imran Khan lacked the courage to talk face-to-face during Parliament sessions.
Watch Aaj Ki Baat full episode here: 
Other important stories on Aaj Ki Baat: 
BCCI asks ICC to oust Pakistan from 2019 World Cup for its terror links
Stepping up the offensive against Pakistan in the wake of the deadly Pulwama terror attack, the Board of Control for Cricket in India (BCCI) has written a letter to the International Cricket Council (ICC) asking it to oust Pakistan from the upcoming 2019 Cricket World Cup in England and Wales. IndiaTV has learnt that BCCI CEO Rahul Johri has sent an email to the ICC, requesting to remove Pakistan from the World Cup as it has continued to harbour terrorists in its own backyard and for supporting terrorism against India. Read full story
India halts nearly 800 containers carrying Pak cement at Wagah border
After withdrawing the 'Most Favoured Nation' granted to Pakistan in the aftermath of the deadly Pulwama terror attack in Jammu and Kashmir, the government has now halted trucks carrying cement from Pakistan at the Wagah border. Nearly 800 containers carrying Pakistan cement were halted at the Wagah border on Wednesday. Read full story
20 Kashmiri students sent on 6-day 'Bharat Darshan Tour' 
Border Security Force (BSF) has organised a 6-day 'Bharat Darshan Tour' for 20 Kashmiri students. Danish Shafiq Baig, a student says, "We are grateful for this opportunity, we will get the chance to see other states and learn more about our history." The tour was flagged off from Srinagar on Wednesday. 
PDP chief Mehbooba Mufti says dialogue only option for India, Pak
Former Jammu and Kashmir chief minister Mehbooba Mufti on Wednesday claimed that only fools could think of a war in these times and dialogue was the only option for India and Pakistan to resolve the tension arising in the aftermath of Pulwama terror attack, which claimed the lives of at least 40 CRPF jawans. Talking to media in Srinagar, the PDP chief claimed that the war between India and Pakistan was unthinkable as both countries were nuclear powers, "and when they have the option of dialogue, I don't think the question of war arises," she added. Read full story
BJD MLA tenders apology for manhandling slain CRPF jawan's uncle
A BJD MLA allegedly manhandled a relative of slain CRPF jawan Manoj Kumar Behera during his funeral and apologised for his action on Tuesday. Barabati-Cuttack MLA Debashish Samantaray tendered his apology after a video of the incident went viral on social media. "I tender my apology for the act which was committed without any intention. There was a huge rush near the cremation ground and I had gone to maintain discipline," he told reporters. Read full story 
PM Modi terms Pulwama terror attack cruel symbol of attack on humanity, Saudi Crown Prince skips topic during joint press conference
Prime Minister Narendra Modi on Wednesday said that Pulwama terror attack was a cruel symbol of attack on humanity, adding it was important to get the terrorists and their supporters punished. PM Modi further said that both India and Saudi Arabi have identical views on fighting terrorism. Addressing a joint press conference with visiting Saudi Crown Prince Mohammad bin Salman, PM Modi said that Saudi Arabia was the most valuable partner of India. Read full story
Also watch | You will be missed: Air Force gives emotional 'missing man' farewell to pilot killed in Surya Kiran crash