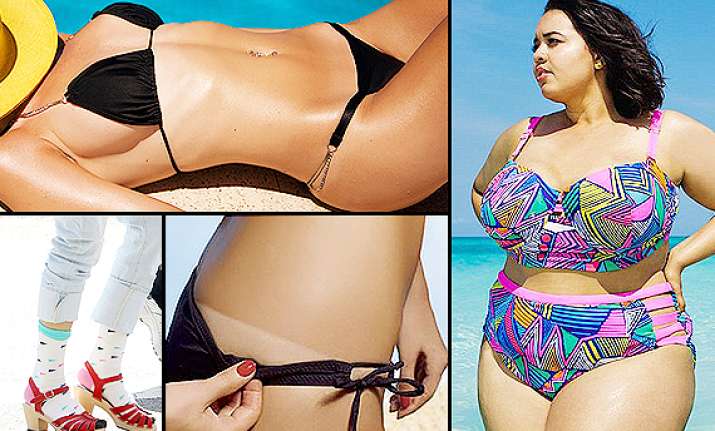 London: Socks and sandals, streaky fake tan and swimwear a size too small feature on a list of the most common fashion faux pas during summer.
Researchers, who polled 2,000 people to uncover the top summer no-no's for both men and women, found beer bellies, union jack shorts and thongs on the beach also on the list.
Muffin tops, panda eyes and peeling sunburn also made it into the top 20, reports femalefirst.co.uk.
Additionally, the poll found wearing heavy make-up on the beach was named as a fail for women while sunburn lines were on both men and women's 'What Not to Wear' list.
The research was commissioned by Swimwear365, an online swimwear brand.
Other fashion clangers to occur in the hotter months include wearing high heels on a beach and men wearing miniscule swimming trunks.
Getting a skirt or dress caught up in knickers and a saggy swimsuit were also named as a sight for sore eyes.
When it comes to blokes, wearing a baseball cap backwards and sporting tattoos on legs were the height of uncool, the poll found.
Unsightly tan lines, bright red sunburn and swimsuits or bikinis that are too tight are among the most committed of these offences.