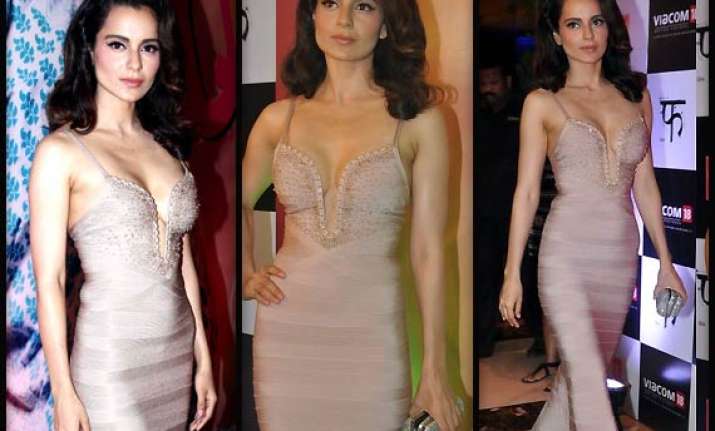 Her movie is still soaring high to the heights of success and she seems to be enjoying her moment of delight.
Kangana Ranaut
's Queen has turned up as this year's one of the most entertaining movies so far and has gained tremendous word-of-mouth publicity.
The cast and crew of Queen recently celebrated rejoicing their film's triumph. Apart from Kangana Ranaut, Rajkumar Rao and director Vikas Behl, many other marked there presence.
The most eye catching moment was when Kangana arrived donning a blush Hervé Léger Priscilla beaded gown with a plunging neckline.
Her champagne colour gown and side swept hair gave a vintage look.
A special 'Queen' cake was cut and the celebrations went on at Hotel JW Marriott in Mumbai. Kangana who was visibly too excited to catch up with the entire crew said, "I never expected that 'Queen' would garner such a brilliant response". She further says, "The film has done a business of about Rs 85 crore so far and it is an achievement for us because when we started shooting the film we never thought we will achieve this much," said Kangana".

Check out pics:
Kangana Ranaut turned in looking a stupendous diva as she went back to donning plunging neckline that she once flaunted post her Fashion days.