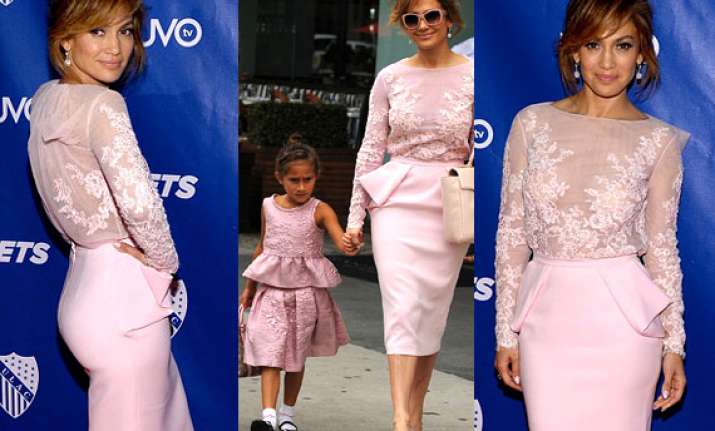 New Delhi: Like mother, like daughter: Jennifer Lopez and her adorable six-year-old daughter Emme got dressed up in similar pale pink peplum outfits as they headed to the New York Hilton hotel. They attended the League of United Latin American Citizens' (LULAC) 85th National Convention with First Lady Michelle Obama.
The singer may have wowed us with her tweaking and risky outfits past weeks, but she looked the picture of elegance with her daughter when she attended LULAC.
The 44-year-old American Idol judge perfectly displayed her recent weight loss in a beautiful high-waist peplum pencil skirt.
She paired it with a matching pale pink semi-sheer long-sleeved top decorated with pretty white floral embroidery, complete with voluminous shoulder adornment on the back.
She completed her look with pair of soft blush and black floral pumps, a nude patent leather handbag with gold hardware and a pair of glamorous soft pink sunglasses.
Unlike her previous appearances, she wore her tresses into chic updo and left plenty of pretty loose tendrils.
While little Emme carried her own bag and looked simply adorable in a little pink dress.
The singer appeared to have an amazing time, and posted a selfie with Michelle while there. In it, the pair are smiling widely, and Jen captioned it: "Me and my girl @flotus at #LULAC National convention for the empowerment of Latinos. #represent #keynotespeaker #introingthekeynotespeaker #dreambig."
Meanwhile a happy Michelle looked equally as stunning in a blue and white floral Tanya Taylor dress.
Other mother-daughter duo who is popular for coordinating their dresses is Katie Holmes and Suri.