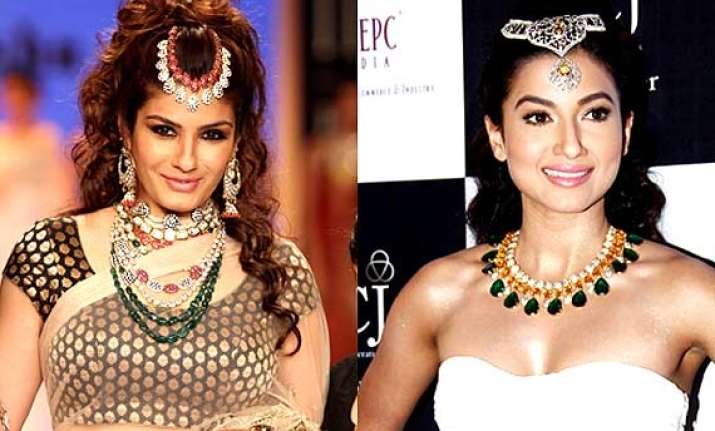 New Delhi: Neckpieces are one of the most common jewellery pieces that women like to wear.
 Whether it's a pearl set, kundan or polki, necklaces always have a special place in a woman's wardrobe.
It's time to go colourful and experiment with multicoloured neckpieces, which can be teamed with different looks for the day and evening.
Neckpieces encrusted with rubies, sapphires and emeralds are currently in vogue and wearing them as head accessory will give you an exquisite look.
These days accessorizing your head is the latest fad. But every time wearing headbands or different clips is not only the option.
You can add a little twist in wearing a necklace. Rather than wearing it in neck, wear it as a head band.
What you can do with your jewellery is to place the necklace on the crown of your head.
 It will add festivity to your look. If you wear your neckpiece as head accessories it gives you an opportunity to stand different from crowd and that also in style.
Traditional neckpieces add glitter for sure, but you can also try fusion set, choker in diamonds and pearl necklaces can add prefect notch of glamour to your look.
The majority of pieces in the market for neckpieces are fusion of old and new trends, so it will give you different ways to dress up in style.
Many people think that donning such style is only major runway trend. We common people too can flaunt these styles with elan.
 Not with just a heavy piece of jewellery but even a simple chain or beads jewellery can add a touch of glamour in your look.
If you are a bride-to-be you can wear this style in your pre-wedding ceremony. Even pearl necklaces can add a beautiful finishing touch to almost any bridal look.
People generally hav misconception that if you are wearing a necklace as a head piece, you cannot wear any other necklace. It's not true.
You can wear both necklace and head accessory at same time but you need to be extra careful to avoid any faux pas.
Choose the one that looks best on you as per your attire and steal the show.