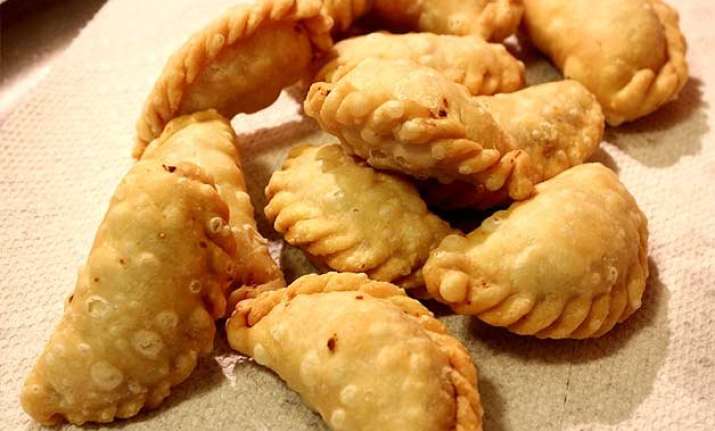 Ten easy steps to make Gujiya on Holi
New Delhi:
Holi delicacies are just a strict not-to-miss food items. And when you say 'Holi' – the instant image that clicks your wit immediately after splash of colours and you wandering wearing all white is that of 'Gujiya.'
This easy to make food item add up to the reasons to have desired fun and ecstasy around the entire festivity. And when you can't just debate on having 'meetha' on any Indian festival, Holi has got its own synonym with 'gujiya.'  
However, it gets very essential that you take care of all the healthy tangents while preparing this quintessential sweet. Here follows a few easy steps to make 'Gujiya' at home.
Thus, delve into that traditional authentic sweetness of Holi and offer yourself a taste of quick home-made gujiya by following the recipe…
Ingredients
500 gm Khoya/mawa
Six table spoons bura sugar or finely grained sugar
3-4 tablespoons finely grated dry coconut
At least 20 raisins
Dry fruits (optional)
600-800 gm Refined flour (maida)
½ to 1 ½ tablespoon salt
200gm Ghee (to deep fry)
A mould
Method
1. Roast the completely mashed Khoya on light heat and take it out when it get slight pink. Let it stay for a while till it gets cool.
2. Add raisins, refined sugar, dry coconut and all the other filling ingredients to the khoya. Mix well and keep aside.
3. Now prepare dough by adding ghee, water to refined flour. Cover it with a moist piece of cloth and keep it aside for 10 minutes
4. Make small balls out of the dough and start rolling them into flat puri. (about 4-5 inches in diameter)
5. Spread the circled puri on Gujiya mould and fill a tablespoon of the Khoya filling prepared earlier. (Note: make sure to not over fill it)
6. Moisten the edges of the puri and fold one side of the mould over the other.
7. Press the edges and remove the excess dough and reuse.
8. Prepare all the gujiyas and spread on a damp cloth.
9. Heat sufficient ghee in a deep pan and deep-fry the gujiyas, in batches on medium heat, till golden brown.
10. Drain on to an absorbent paper. Cool and store in an airtight tin.