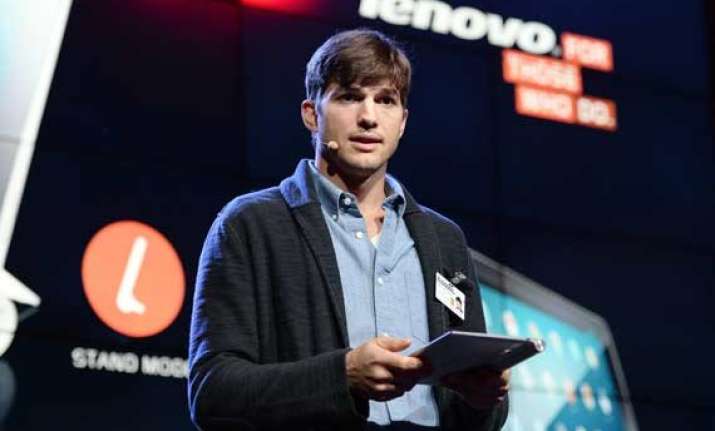 Los Angeles: It seems playing Steve Jobs in "Jobs" may have gone to his head. Actor Ashton Kutcher is following in the steps of the Apple mastermind by becoming a tablet designer.
The actor has just put his name to the YOGA Tablet 2 Pro, which is the latest device to arrive from Chinese tech company Lenovo, reports dailystar.co.uk.
The 35-year-old worked with Lenovo to develop and market the Yoga line of tablets by providing input and decision-making into design, specifications, software and usage scenarios.
The tablet not only includes a bag-busting 13-inch screen, but can also act as a movie projector. This will beam content on any surface at a size of up to 50-inches.
Other features include an Intel Atom processor, 8 megapixel rear camera and surround sound speakers. And there's even a hang mode, which as you'd expect from the name, allows you to easily pop the tablet on your wall.
Speaking about the device Kutcher said: "Our vision for the YOGA Tablet 2 Pro was to create the best tablet on the market.
"To do that, we really looked at how people use tablets and what they needed for a better experience. The YOGA Tablet 2 Pro has got the best sound, a dramatically brilliant camera and display, a new mode, a projector and top processor, so I think we created the best tablet available. I can't wait for people to try it," he added.
The YOGA Tablet 2 Pro will hit British stores soon.