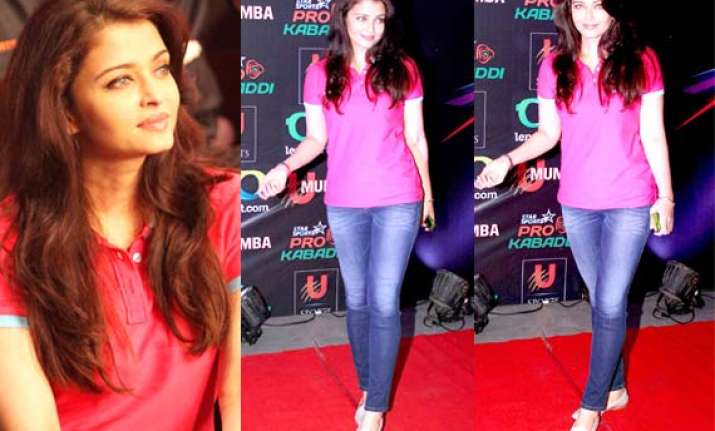 New Delhi: A slimmer Aishwarya Rai Bachchan is back with a bang! The former Miss World has lost weight and has gone from flab to utterly fabulous.
Her weight loss journey was not at all easy with scores of criticism from all Aishwarya Rai Bachchan took her time to silence her critics.
Ever since her Cannes appearance this year Aishwarya managed to stunned all and looked even slimmer, prettier when she attended the Pro Kabaddi league last night. 
Aishwarya's weight loss was quite evident in her recent photos that were taken at the Pro Kabaddi league. 
Aishwarya, who cheered the team and the players along with entire Bachchan family, looked stunningly gorgeous and slimmer in a fuchsia team shirt and denims. 
However, Aishwarya got it right this time by keeping the look simple and radiant as she pulled off the simple look with her blue eyes richly lined with kajal, eye liner and heavy mascara. 
Like most mothers, Aishwarya too gained weight after giving birth to daughter Aaradhya in November 2011. But she was criticized for not shedding the kilos quickly considering her celebrity status.
 Many people including film fans, on blogs and in entertainment columns, have criticized her saying that it's her "duty to look good and fit. But Ash defended herself saying that she wants to enjoy motherhood. 
She was later compared to fellow actresses like Lara Dutta and Shilpa Shetty, who too gave birth at the same time, but was successful in losing the extra weight. 
Still, Aishwarya took her time on losing weight steadily over the last few months. She shocked critics every time she made a public appearance.
 From Cannes film festival to opening of commonwealth games 2014, whenever she made a public appearance she stunned everyone with her slimmed down looks. 
 Aishwarya's fans must be very elated to see her getting back in shape and creating the same magic that she used to create earlier. 
And now since she is back to her original figure, one can expect her to make a silver screen comeback soon.