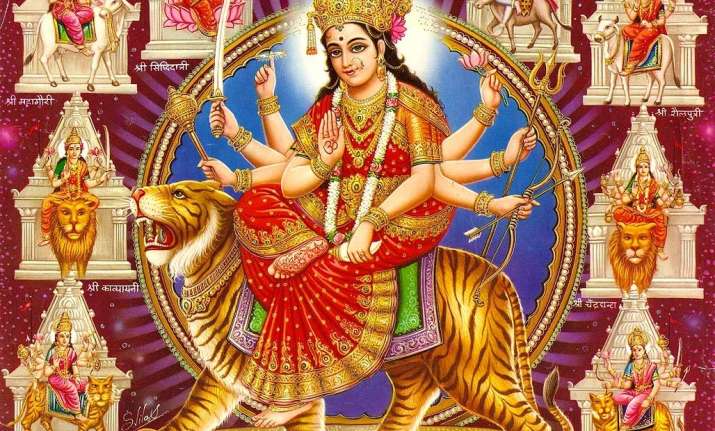 Navratri is one of the most important festivals celebrated in India. It falls twice in a year, once during Spring and the other during Autumn. Navratri celebrated during Spring season is known as Chaitra Navratri. It usually falls in the month of March-April of the Gregorian calendar. This year, Chaitra Navratri 2018 is being celebrated from 18th March to 25th March. It is a nine day festival, during which each incarnation of Goddess Durga is worshipped.
There are nine incarnations of Goddess Durga that are worshipped on each day of Navratri. They are as follows:
Day 1: Goddess Shailputri
Day 2: Goddess Brahmacharini
Day 3: Chandraghanta
Day 4: Kushmanda
Day 5: Skandmata
Day 6: Katyayani
Day 7: Kalratri
Day 8: Mahagauri
Day 9: Sidhidatri
Chaitra Navratri 2018 Kalash Sthapana Vidhi
Chaitra Navratri is commencing from tomorrow, ie from March 18th. On the first day of Navratri, a Kalash is kept at the place of worship. It is kept following the rituals of Kalash Puja. Some people even call a priest to carry out the rituals. Today we're going to tell you the right way to install a Kalash on the first day of Navratri.
Take bath early in the morning and clean the place where the Kalash has to be kept. Spread a red-coloured cloth on a wooden seat. Keep some rice on the cloth while remembering Lord Ganesha. Lord Ganesha is worshipped before commencing any Puja in Hindu rituals. Make an altar using some soil and sow the seeds of Barley in it. Now establish a Kalash made up of earth, gold or copper on this soil. Keep some water in the Kalash.
Make a Swastik sign on the Kalash using vermillion paste. Tie a holy thread on the neck of the Kalash. Add betelnut and coin in the Kalash and keep some mango leaves in it. Lid the Kalash and keep some rice over it.
Take a coconut and tie a 'Chunari' over it. Also tie a holy thread, like you did with the Kalash. Keep this coconut over the lid of Kalash and now remember the Gods and Goddesses with all your heart. Light a lamp and pray to the almighty God. Offer sweets and flowers to the deities. Read the Durga Saptshakti Paath afterward.
Chaitra Navratri 2018 Schedule
March 18 -  Pratipada – Ghatasthapana, Chandra Darshan and Shailputri Puja
March 19 - Dwitiya - Sindhara Dooj and Brahmacharini Puja
March 20 - Tritiya – Gauri Teej, Saubhagya Teej and Chandraghanta Puja
March 21 - Chaturthi – Varad Vinayaka Chauth, Lakshmi Panchami and Kushmanda Puja
March 22 - Panchami – Naag Puja, Skanda Sashti and Skandamata Puja
March 23 - Shashti – Yamuna Chhath and Katyayani Puja
March 24 - Saptami – Maha Saptami, Kalaratri Puja, Durga Ashtami, Mahagauri Puja Annapurna Ashtami
March 25 - Ashtami – Sandhi Puja and Rama Navami
March 26 – Navratri Parana and Dashami
Also Read: Chaitra Navratri 2018: Date, Time and 5 things to avoid during fasting