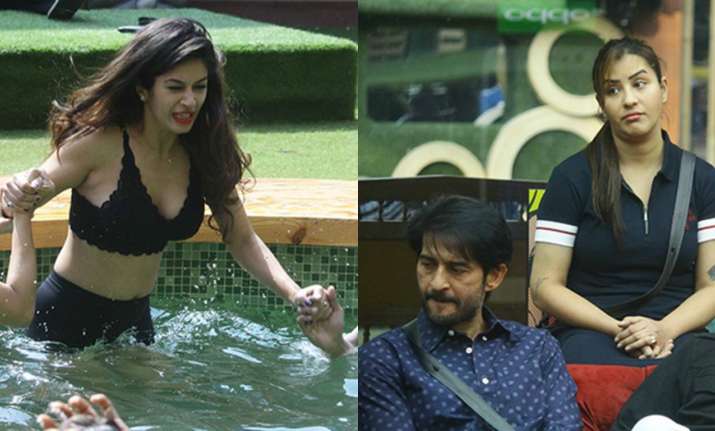 The November 17 episode of Bigg Boss 11 began with couples engaging in PDA and lot of PDA. Priyank tells Benafsha that he is protective about her. Ben says that she has boyfriend outside the house but she feels differently for him. They both hug each other. On the other hand, our very first couple, Puneesh and Bandagi go in the bathroom again after lights are off. Gross!
A new day for housemates. Akash tries to provoke Shilpa. Hiten hits out at Akash for playing with Arshi and Shilpa. He says because of Akash, both of them are isolated in the house. Shilpa again bitches about Vikas and says that he is playing a big game. Sapna asks everyone to go into the pool in a bikini. While, men of the house watch girls frolicking in bikinis, Priyank begins commenting on girls. Meanwhile, Arshi decides to join in by wearing a saree and Shilpa chooses to cook as no one asked her to join. Puneesh and Bandagi don't leave each other here as well.
Hina Khan announces the captaincy task. Each contender will have to hold a bowl of coloured water with both their hands for two hours. They can't sit, lie down or even use restroom or smoke either. Whosoever bowl will have the maximum water will win the task. Bandagi is declared the winner while Luv's bowl was flipped by Ben and Puneesh's bowl gets toppled by Akash.
Bigg Boss picks Shilpa and Arshi as the worst performers in the dinosaur task. Bandagi is asked to save one and suggest two other names, she saves Arshi, Shilpa, Akash and Luv are sent to jail. Ben calls Luv a fake friend. On the other hand, Akash taunts and tries to provoke Vikas. He tells Vikas not to sit near the jail. Vikas says that Akash is upset with him because he is friends with all housemates. He also says that Akash does all these dramas only for limelight.
Deepika Padukone and Sunny Leone will visit the house on Weekend Ka Vaar on Saturday. Keep watching this space for all latest updates on Bigg Boss 11