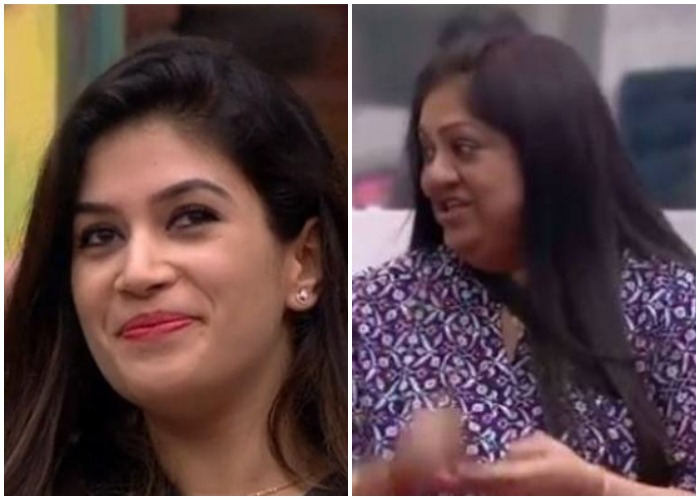 Bigg Boss 11 has been witnessing umpteen twists and turns ever since its beginning. Now when only handful of contestants are left in the house, Bigg Boss has introduces a new zingy twist to the show. The friends and relatives of the housemates are now living in the house next to Bigg Boss house. In the last night's episode, the housemates were assigned the task to impress the 'Padosis' with their culinary skills. As expected, Shilpa Shinde won the task hands down. In the preview shown last night, Akash Dadlani's mother was seen breaking down emotionally after Bandgi Kalra called him a 'quitter' for never performing in the task. Let's watch it tonight how this brawl among the 'gharwalas' started and how will the housemates react.
11:27 pm: Hina, Puneesh and Luv discuss about Vikas and Akash's mother. The housemates will meet their family members in tomorrow's episode. 
11:20 pm: Hina and Vikas discuss how their respective people are being targetted in the house. Shilpa and Akash are discussing their point of view on the other hand.  
11:18 pm: Housemates discuss how their parents are reacting in the house. Vikas and Akash get into a heated argument. Hina and Puneesh believes that the younger ones like Bandgi and Rocky are being dominated. Priyank and Vikas also argue over latter's mom who is close to both of them. 
11:11 pm: Vikas Gupta jumps in the task. He's going to pretend Turmeric is poop! But his idea is flop, sadly. But Akash Dadlani reacts by calling him Gadha. Vikas grabs Akash's suitcase and throws them in the pool. But wait what? It was Vikas's suitcase himself! Akash reacts again. But Luv is the winner of the task. 
11:08 pm:  Hina asks Akash to calm down till the parents are here. Akash says that he wants their parents to fight their wits off. He's pitted against Vikas, Hina and Shilpa. He thinks Vikas is the worst player in the house. 
11:05 pm:  Akash Dadlani gets offended by Ashutosh Shinde and Bandgi Kalra's comment on Akash Dadlani. Vikas's mother consoles her. Akash's mother thinks he trusts people very easily. Priyank tries to push him up in the task. 
10:55 pm: Time stars for Akash Dadlani. Housemates defer from their promise that they will react to Dadlani. How will his mother react? Only Priyank reacts to his antics. Padosis appreciate Priyank's generous behaviour. 
10:52 pm: It's time for Puneesh to make housemates react. Akash easily gives in to his antics. Shilpa ignores her close friend Puneesh. Vikas Gupta talks about Bandgi Kalra's beauty. Time ends for Puneesh with 10 reactions. 
10:50 pm: Luv tries to get reactions. He repeats his cross-dressing act to make people laugh. Shilpa Shinde also laughs at Luv Tyagi's antics. She's continuously giving in to Luv's acts. He gets 9 reactions. Time ends for Luv Tyagi. Housemates appreciate Luv for this task. 
10:47 pm: Shilpa Shinde tries to evoke reactions in housemates. Her durations ends. She doesn't get any reactions. 
10:44 pm: It's Priyank's turn to do the task. The housemates now have to ignore Priyank, no matter what he does. Priyank targetted Hina to get reactions out of her. He gets 13 reactions. 
10:40 pm: Housemates ignore Hina Khan for a task. She first targets Akash and then moves on to Priyank. She feels that she really fell down for a task. 
10:31 pm: Padosis and gharwale wake up to 'Amma Dekh Tera Munda Bigda Jaaye'. Vikas Gupta and Priyank Sharma feel that housemates are ganged up against them. Priyank comes to know how Luv along with Shilpa and Puneesh made fun of his dancing behind his back.