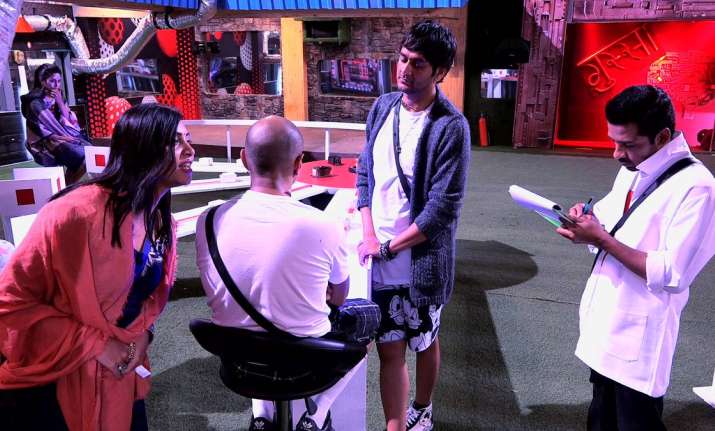 The Bigg Boss 11 Day 72 December 12 episode started off with Akash Dadlani targeting Shilpa Shinde once again. The rapper accuses Shilpa of spreading rumours in the house by telling everyone that he touches her inappropriately. He then goes on to make fun of the Bhabi Ji Ghar Par Hai actress calling her too old for him. Akash says Arshi Khan is fit to become his girlfriend and kisses her on her lips which leaves Shilpa totally surprised. Bigg Boss announces the new luxury budget task titled BB Lab. 
The housemates get divided into two teams - robots and karamcharis. The karamchari had to trigger the robots' emotions and force them to react. Puneesh Sharma was the 'mad scientist sanchalak' of the task. Hina Khan, Priyank Sharma, Akash Dadlani and Hiten Tejwani were the robots while Vikas Gupta, Shilpa Shinde, Arshi Khan and Luv Tyagi were the karamcharis in the luxury budget task. 
Gharwalon ko mila iss hafte ka Luxury Budget task! Find out more tonight at 10:30 PM on #BB11.https://t.co/9icAp6VPqv pic.twitter.com/xa1O1hWK5V

— COLORS (@ColorsTV) December 12, 2017
The task was divided into three rounds based on different emotions, which were anger, sadness and happiness. Bigg Boss also declared that this task would also impact the captaincy.
Bigg Boss gives anger as the first emotion. Vikas and Shilpa start their quest to bring the anger out of the robots. Vikas points towards Akash and says that he is the most disgraceful man on this show. He doesn't even spare his mother or his family. He makes use of them for gaining attention and disregards them in the same frame of time. Turning towards Hina, Shilpa calls her the most brilliant actress of this season. She even calls her a temptress. Vikas calls her a double-faced woman and a hypocrite.
The next expressions demanded was crying and Arshi brought up Priyank's mother and how he was missing her. She said while Priyank really missed his mother, she never visited the Bigg Boss house like other's parents. Shilpa said maybe his mother didn't want to meet him. Priyank welled up.
Arshi then tried to make Hina emotional by mentioning her boyfriend, Rockky. Vikas asked Arshi to give up and let Luv try but she shouted and said he should let her complete her task.
When the time for laughter comes, Luv picks up two apples to make him look like a girl. He comes with a vig and Arshi's clothes draped on him. All the robots burst into laughter. Anger comes once again and Vikas starts insulting Akash once again. He brings the instance when Akash kissed Shilpa on the lips. He even mocks him for chittiyan kalaiyan and Akash starts explaining as soon as the task ends for the day.
For more entertainment news and updates, follow our Facebook page