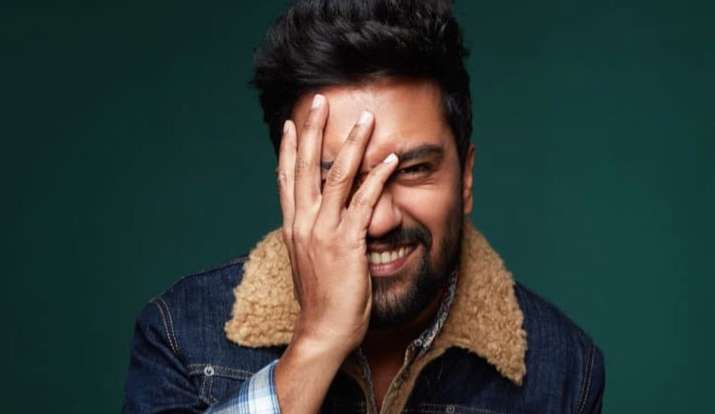 Celebrities have become quite active on social media amid lockdown. They are not leaving any stones unturned to keep their fans updated with their day to day activities. Besides motivating and inspiring them, they are also indulging in fun sessions with their fans. Vicky Kaushal, too, also took to Instagram to invite questions from his fans. 
During the Q & A session, the actor went on to reveal many secrets. One of his fans asked: "Who was your first crush in Bollywood". The actor along with the question shared a photograph of himself with Madhuri Dixit. Isn't that cute?
Another fan questioned him about his most challenging film till date. Vicky shared the poster of "Raman Raghav 2.0".
How's Vicky killing his time, one asked. "Spending time with family, watching movies and shows, working out, occasionally yoga with mom, video calls with friends," he said.
Asked about his views about quarantine, Vicky said: "Most important thing to do right now! Be home. Be safe."
Vicky on Tuesday announced that he will be contributing Rs 1 crore to help the nation in its fight against COVID-19. In an Instagram post, he wrote: "While I am blessed enough to be seated with my loved ones in the comforts of my home, there are many who are not as fortunate. In this time of crisis, I humbly pledge to contribute an amount of Rs. 1 crore to PM-CARES and Maharashtra Chief Minister Relief Fund. We are in this together and we'll win this together. Let us all do our bit for a healthier and stronger future."
Vicky was last seen in Bhoot Part One: The Haunted Ship. The movie tanked at the box office. Before the lockdown was announced, Vicky gave a treat to his fans by revealing the release date of his movie Sardar Udham Singh.

Directed by Shoojit Sircar, the movie will hit the theatres on January 15 next year. It is a biopic on freedom fighter Sardar Udham Singh, who assassinated Michael O'Dwyer, the former Lieutenant Governor of Punjab in British India in 1940, to avenge the 1919 Jallianwala Bagh massacre.
Announcing the new release date of the film, Vicky wrote on Instagram, "On March 13th 1940, #SardarUdham singlehandedly assassinated Michael O' Dwyer in London to honour the lives lost at the Jallianwala Bagh massacre. ‬ ‪His story deserves justice onscreen. Keeping that in mind, we will now see you in cinemas on 15th January 2021!"