 Movie Name:

PadMan

Critics Rating:

4

/

5

Release Date:

FEB 9, 2018

Director:

R Balki

Genre:

Social Drama
Akshay Kumar has now begun a new trend of delivering social messages through commercial films. This method is quite appealing and has an impact on its viewers. After talking about open defecation in Toilet: Ek Prem Katha, in PadMan Akshay has revealed his feminine side by discussing menstrual hygiene openly. Helmed by R Balki and starring Akshay Kumar, Radhika Apte and Sonam Kapoor, PadMan has a serious take on menstruation and taboos around it on a light note. It is a biopic on Coimbatore-based Arunachalam Murugunantham, who developed low-cost sanitary napkins after seeing his wife using a filthy rag.
The story is set-up in a picturesque city of Madhya Pradesh where Lakshmi (Akshay) lives with his wife Gayatri (Radhika), his mother and two younger sisters. Set in 2001, the newly-married Lakshmi finds that his wife uses dirty cloth during those 'five days of the month' which he won't even use for cleaning his bicycle. Lakshmi can't understand why his wife stays outside the house and is barred from entering the home. He brings a sanitary napkin for Gayatri but the shy lady who doesn't want her husband to poke his nose into ''women's business'' refuses to use this because of its price. Using the pad will send the budget of their house into haywire, she says. Lakshmi wonders why is such a small thing overpriced and then decides to make a pad on his own. How Lakshmi achieves success in empowering women forms the story.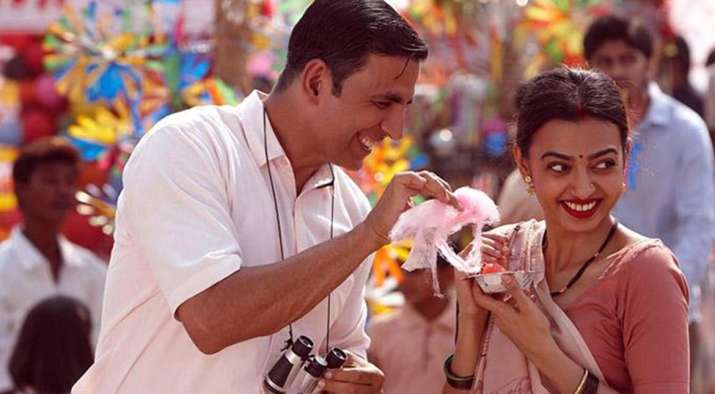 Lakshmi played by Akshay is a sensitive person who goes out of the way to solve unsaid sorrows of his wife. He is as curious as a child and develops an alternate way of doing things. Whenever he comes across a new thing, his conscious mind tells him that even he can do that. On the other hand, Gayatri played by Radhika is a bit melodramatic character. She is shy and thinks that ''sharm'' is the biggest ''disease'' a woman can suffer from. She juggles between her husband's stubborn nature and societal shaming. 
The first half of the film is around 140 minutes which is mainly about 'T & F' in words of Lakshmi, i.e., try and fail. Yes, Lakshmi didn't even think that his sweet gesture for his wife will turn into his sole purpose of life. After his wife refuses to wear his pads, he tries to persuade his sisters, medical college girls and even tries it on himself, but all goes in vain. He is ridiculed, shamed and even face banishment for his efforts. Villagers think that he has been possessed, his wife leaves him, mother and sisters are horrified and it is then when he decides to go Indore. This is a tad too long and few scenes could have easily been chopped off at the editing table. A song celebrating menarche could have been done away with. However, it is the post-interval which compensates for the first half of the film. Second half depicts his struggle which begins with doing household chores in a professor's house just to seek 'gyan'. Sonam Kapoor's character is totally a figment of Balki's imagination. Her easy-breezy character gives wings to Lakshmi.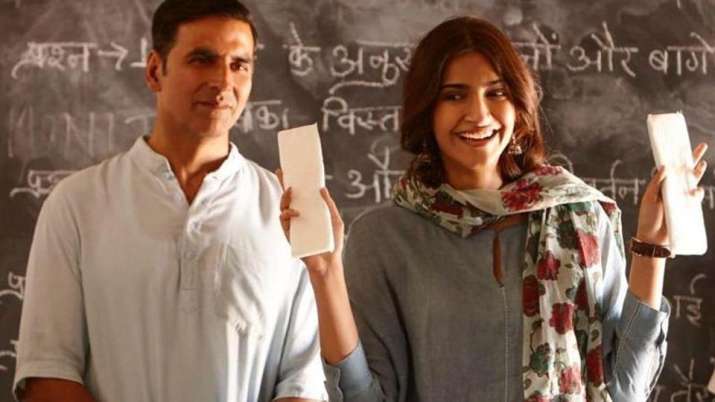 First of all, choosing such a subject and that too with a big face in it to break age-old taboos is applause-worthy. It is definitely a cause to cheer. The story of Arunachalam has all the essential elements of a hit Bollywood film. At some places, the movie tries to be preachy with heavy dialogues but that shouldn't be the annoying element considering the various classes of audience. Story by director Balki with additional inputs from Swanand Kirkire doesn't destroy the essence of the film with a social message. Right from the beginning, the film sets its heart in the right place. Cinematography by P.C. Sreeram is beautiful and delights you with some of the beautiful shots. Dialogues are quirky throughout the movie and this helps in delivering the serious message on a lighter and entertaining note. Amit Trivedi's music adds the charm. Beginning with Arijit Singh's hum-worthy Aaj Se Teri to Hu Ba Hu and PadMan song that sings praises of India's PadMan, tracks are refreshing.
Akshay Kumar makes Lakshmi relatable and his performance has many shades of emotions. You feel sad for him and you even rejoice when he inches towards success. However, there is less depth in Radhika's character but she plays her part well. Sonam Kapoor as Pari Walia arrives much late and doesn't have much to contribute to the movie. The romantic angle between Lakshmi and Pari doesn't add meat to the film and feels enforced. When Lakshmi delivers a speech at United Nations in broken English, he gives the credit to a fairy (Pari).
Lakshmi is a man with extraordinary courage and determination. It is not the first time, a film on such a subject has been made. Last year, it was a low-budget movie Phullu but this one is quite different. A-list stars and good direction are bound to create a wider reach. Go for it!