 Movie Name:Chef
Critics Rating: 3.5 / 5
Release Date: 06-10-2017
Director: Raja Krishna Menon
Genre: Drama/Comedy
Saif Ali Khan's Chef makes a grand entry on silverscreen. Directed by Raja Krishna Menon, it is a bittersweet account of a Michel-star Chef and his estranged son. It is an official remake of 2014 American film Chef, helmed by Jon Favreau. Chef's story has been penned by Ritesh Shah, Suresh Nair and Raja Krishna Menon. Original Chef's excellent critical reception adds a fair amount of expectations from this official remake of superhit film. After Race 2, the actor did movies like Bullet Raja, Humshakals, Happy Ending, Rangoon, etc which made the grade neither at the box office nor among the critics. After doing high-octane dramas, Chef is the much-needed respite for the actor as well as his fan. 
Chef Story
Chef, though being an official remake of a Jon Favreau film, is not entirely inspired by it. In the Desi adaptation of Chef, Saif Ali Khan plays a Michelin star Chef, Roshan Kalra who works in an Indian restaurant 'Galli' in America. His mundane life is thrown into an upheaval when he indulges in a squabble with a customer who criticises his work. While he blames his subordinates for making second-rate food, everyone else believes that the great 'Roshan K' has lost his spirit to cook and serve. Without realising his own hiatus, he holds onto his pride of being a Michelin star chef.  As the repercussions of his actions, Roshan is fired from his job, leaving him directionless and hopeless. 
To take a break and also to sort his life out, he flies to Kochi, India to meet his son Armaan and ex-wife Radha. The trip turns into a life-changer when he decides to run a restaurant truck in India, instead of taking a lucrative job back in America. Roshan finally rediscovers his knack for cooking when he invents an Indo-Italian dish Rottza (a cross between Roti and Pizza) to pacify his disappointed son. Rasta Cafe (The name he gave to his food truck) becomes an immense hit in Kerala, Goa and finally in Delhi. In the course of setting up his restaurant, he finally mends the broken ties with his teenage son. 
Chef 2017 Review 
As the film begins, we sit half-expecting the film to be an exact copy of Jon Favreau's Chef, but Raja Krishna Menon surprises us in a flattering manner. He serves this Videshi cuisine with the Indian Tadka right from the start. This slice-of-life film has all the flavours which we go through in our everyday lives. The first frame of the movie shows Chef Roshan Kalra engaged in a scuffle with a customer who criticised his food for lacking the same-old taste. Without wasting the time and showing unnecessary sequences, Chef catches on its due course. One thing happens after the other, and it spares no moment to move our eyes away from the screen. It never gets off-track or moves even an inch away from reality. As the fashion followed by most of the Bollywood films, one could've expected that Chef might take a detour from its primary subject. But surprisingly, that is not the case with Raja Krishna Menon's work. 
Chef's sequences are appropriate, proportionate and not at all protracted to boredom. Not even at the single point of the movie, it gets over-burdened with emotions or dramatisation. Roshan Kalra is as genuine as a Michelin-star Chef can be, proud and yet insecure about his shortcoming. More than a chef, he's an estranged father who tries his level best to secure the future of his son financially, without realising that it's his company that his child needs right now. Before getting back to India to his son, he never comprehended what was lacking in his life. But after getting the company of his son, it finally hits him that this was the thing he was lacking in his life. He was a great chef but was lacking love and fervour to feed his customers.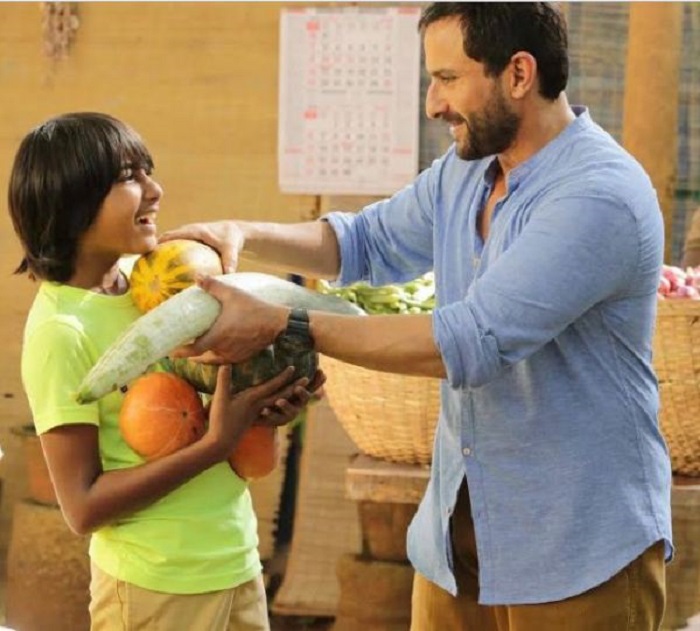 Chef is a double-edged sword. Firstly, it's a visual and gustatory treat for the food lovers, as Roshan Kalra takes his son to a food trip to Delhi, Goa and Amritsar, the food hubs of India. For the lovers of food, cookery and of course, Saif Ali Khan, it is a tantalizing sight to see the actor chopping the veggies and tossing the spaghetti with such finesse. For a moment, one might forget that it's the Saif Ali Khan from Bollywood and not a superbly efficient Chef Roshan Kalra. That's the winning point for Saif Ali Khan, where he excels as a reasonable actor. Seeing Saif handling the utensils in the kitchen will make even the laziest couch potato to run for their apron! 
The fact that Raja Krishna Menon stuffed a new concept of Rottza was an added value to Chef. If Roshan Kalra went on selling the threadbare cuisines in his food truck, we wouldn't be flattered at all. The food truck being an instant hit with the same-old recipes could have become too Bollywood like- hard to believe. But thanks to Menon, he stuck to reality! 
Secondly, the Chef leaves you emotionally satiated, which not many of the Indian films succeed to do nowadays. Chef is a neighbourhood affair, no herculean story or a phenomenal character, no glamorization and yet the film is visually and mentally enticing. The emotional turmoil of an estranged father, the neediness of a teenage son and the empathy of an ex-partner is nothing that one would find hard to believe. It's an everyday affair of families and yet so different. 
One thing that film lacks is the dramatisation of climax which is a pleasant surprise for the audience who has lately been used to watching overworked climaxes of Bollywood flicks. The things fall back into the place as easily as the movie's course has been. No exaggeration, no tear shedding and no serendipity, Raja Krishna Menon gives it an end this movie deserved.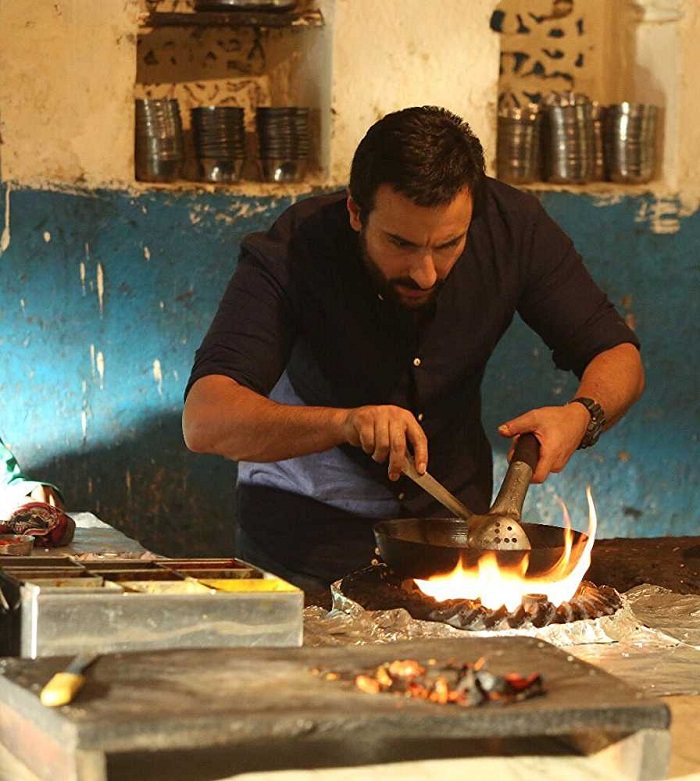 The cinematography of Chef pulls off the Kerala milieu on screen with such an elegance, that one point you'll start believing that it's a Kerala Tourism advert. Priya Seth captures the ethereal and untouched beauty of tropical Malabar Coast utter-efficiently, adding the accolade to an already fantastic film. 
Saif Ali Khan delivers one of his most stellar performances with Chef 
Apart from Raja Krishna Menon's directorial work, Saif Ali Khan has really outdone himself in Chef. It's hard to differentiate Roshan from Saif, wanting us to see more of him in this avatar. He has bested both, the 40-something bilious man and a doting father. It's not the first time that Saif has been effortless in front of the camera. Chef takes us back to his 2004 film Hum Tum, where he outshined the role of a coming-of-age character. He was as natural as an actor back then as he is now. It was a 'mouth-watering' sight to see Saif Ali Khan back with a bang after a long time. 
Padmapriya Janakiraman as Radha adds to the visual quotient of the film. She is exquisite and a piece of art on silverscreen. Carrying herself with the elegance required by her role, Janakiraman was a stunning indulgence in Chef. Apart from Janakiraman, the supporting cast has also aced their roles. Milind Soman's extended cameo as Radha's boyfriend was sexier than our imagination. That man is surely growing exquisitely as a wine. Age is just a number when you're Soman! Dinesh Prabhakar and Chandan Roy Sanyal as supporting roles are my personal favourite pick. They added the needed humour, sparkle and push to the film wherever needed. 
Chef: Yay or Nay? 
Thus, overall, Chef is a polished production and an outstanding work by Raja Krishna Menon. It's good right from the start but rises to excellence exponentially as the film proceeds. You see beauty in every scene of the movie, with no single moment of boredom. To be precise, the film grows on your so well that you wish that it doesn't end.