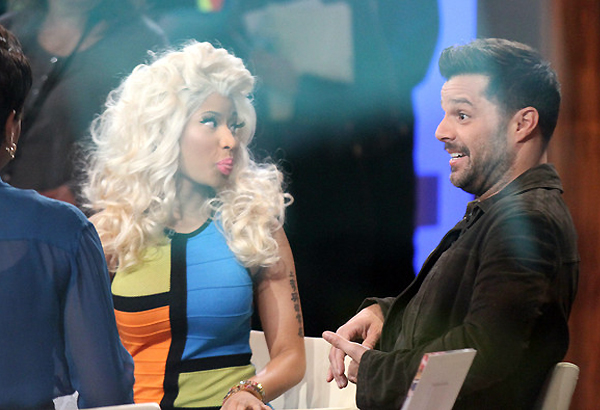 New York, Feb 16: Some were confused, others offended by Nicki Minaj's over-the-top performance at the Grammy Awards on Sunday, but the singer-rapper doesn't understand what all the hubbub was about.

"I don't know what is the big issue?" she asked.

The 29-year-old said her five-minute live rendition of her songs "Roman's Revenge" and "Roman Holiday," which included dancing priests, an exorcism and levitation, was just a part of a movie she's writing.

"You know how people write plays and movies? That's what I did. I wrote that and I gave the world a tiny little preview of what was to come. And so I have to perform it on the set in which it would be in the movie, right?" she said.

Minaj made the comments Wednesday night (15 Feb.) at an event for Viva Glam MAC cosmetics, where she is an ambassador with fellow singer Ricky Martin.  Proceeds from the sale of the special edition products benefit the MAC AIDS Fund, which supports HIV/AIDS programs worldwide.

"(HIV/AIDS) was a very big problem in the 80s and then people kind of got tired of talking about it. In the meantime unfortunately people are dying. People are still dying from this. It doesn't discriminate. Men, women and children are being affected by this and I'm very honored to be a part of this campaign and let's just keep creating awareness," explained Martin.

Martin also wanted to set the record straight about rumors that he plans to marry his boyfriend, Carlos Gonzalez.

"They can say whatever they want. I'm not married. But if I get married, trust me I will tell the world," he explained. "Yeah, I'll be happy about it. I won't be able to hide it. But it's not something were talking about at the moment. We're very happy the way we are."

"Right! You know if I go on the moon I'll tell people I'm on the moon. I'd want the world to know," added Minaj.

Minaj's sophomore album, "Pink Friday: Roman Reloaded," will be released on April 3 and features Minaj rapping as her male alter ego, Roman. It's the follow-up to her platinum debut, "Pink Friday," which was nominated for three Grammys, though she walked away with zero trophies.