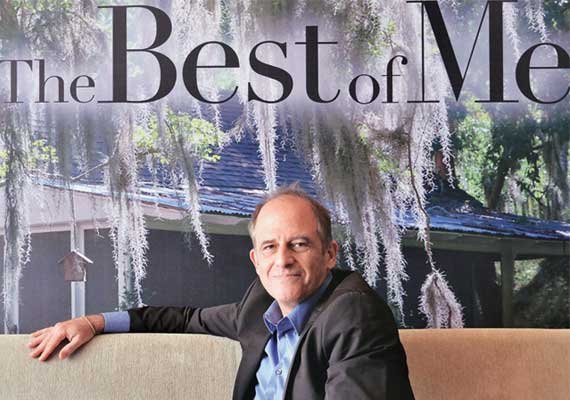 Mumbai: Hollywood director Michael Hoffman says the Hindi film industry is not only finding space at international festivals but is also becoming more "sophisticated" while remaining rooted.
"Bollywood is shifting and changing. Bollywood is getting more sophisticated and broader but still maintaining the roots of Indian cinema," Hoffman, who is here to promote his movie "The Best of Me", told IANS in an interview.
"It's getting more respect from all over the world, and even at the (international film) festivals it is making its place," he added.
His keen eyes have noticed not just the growth of Bollywood; they seem to be in tune with the movies that matter.
"I have heard a lot about 'Haider' and 'Maqbool'. These are some interesting films," said Hoffman, praising Vishal Bhardwaj's two most appreciated works, which are adaptations of Shakespeare's "Macbeth" and "Hamlet".
Interestingly, his "The Best Of Me" too is an adaptation. It is based on Nicholas Sparks' similarly titled romantic novel.
Despite making good movies, an Oscar is still a distant dream for Bollywood filmmakers. How so?
"I don't know that... Indian films are different. It has a more realistic approach, but one thing that gets difficult for India is the existence of the massive Bollywood tradition," he said.
But he was confident that it would one day hit the bull's eye.
"I also feel that Bollywood is sort of coming up. People are a lot more interested and the marriage between the Bollywood style and strong content like 'Haider'... that kind of film (with) serious content and distinctive style will definitely get a crossover recognition," he added.
Hoffman's "The Best of Me" hits the screens in India Friday.
Asked what prompted him to make a film on the novel, he said: "I was going through a phase in my life where I had lost faith in love and this came along. So I thought I should make it and it worked."
Hoffman teamed up with James Marsden and Michelle Monaghan to bring this intriguing love story on the big screen.
Lately, quite a few Hollywood directors are inclined towards adaptations of bestsellers.
Talking about the trend, Hoffman said: "In the case of these books, there is a huge readership. Everybody wants a brand that people can associate with because the audience is already educated about the story."
He felt that viewers can easily connect with adaptations.
"If people are working on a fresh script, they are working on a standing start. There is a reason why we are here. There is an Indian audience for these kinds of films. In India, I walked into a bookshop and there were two shelves of Nicholas' novel.
"There you go, that's what Hollywood is attracted to: branding. The adaptation of a novel has always been there and many of them ended up getting Oscars," added the director, who is known for films like "One Fine Day" and "Promised Land".