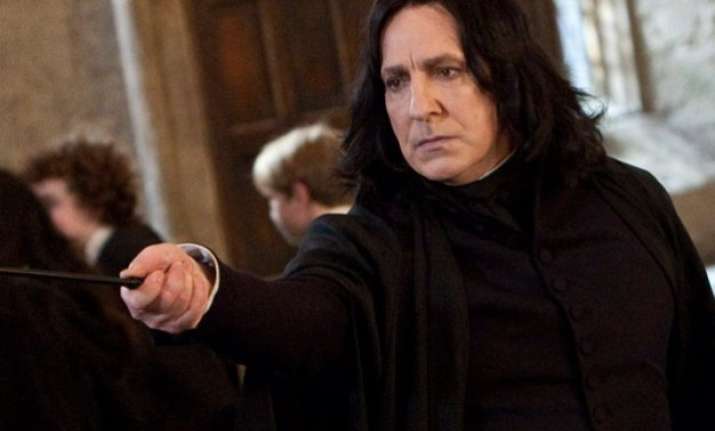 London: Renowned British actor Alan Rickman, best known for playing Professor Snape in the Harry Potter series, died here on Thursday, media reports said. He was 69.
One of the most loved British actors, Rickman was suffering from cancer. His family confirmed his death, reported the Guardian.
Apart from gaining accolades for his performance as Professor Snape in the famous Harry Potter movies, he was also known for the villain Hans Gruber in the original Die Hard film.
Rickman was born in Acton, London and his stint in Die Hard in 1988 was his shot to stardom. He attended Latymer Upper School and studied Graphic Design at Chelsea College of Art and Design, where he met Rima Horton, who became his life partner.
Although often the villain, Rickman starred in a wide-range of films, showing off his comic abilities in movies including Dogma, Galaxy Quest and The Hitchhiker's Guide to the Galaxy. Other films included 2003's Love Actually and Sweeney Todd.
He also won a Bafta Award for playing the Sheriff of Nottingham in 1991's Robin Hood: Prince of Thieves.
Public figures were quick to pay tribute to Mr Rickman after the news of his unexpected death was announced today. Many took to Twitter to show their support for the actor's family.
Jeremy Corbyn, labour leader tweeted; 'Very sad to hear that Alan Rickman has passed away. One of the greatest actors of his generation. My thoughts are with his family and friends.' Author Tony Parsons added: 'Alan Rickman added a touch of class to everything he touched.'And Stephen Fry said: 'What desperately sad news about Alan Rickman. A man of such talent, wicked charm and stunning screen and stage presence. He'll be sorely missed.'
His demise days after the death of 69-year old rockstar David Bowie saddened fans from around the world. Eddie Izzard said: 'I do not want my heroes to die! Alan Rickman is dead and he was another hero. Alan - thank you for being with us. We are sorry you had to go.'
Rickman's death comes just months ahead of the release of a new film called Eye In The Sky in which he stars alongside Helen Mirren and Aaron Paul, due to open in Britain on April 8. Just last year, the star revealed he had married long-term partner Rima Horton, half a century after they first met as teenagers.Talking about the ceremony, Rickman said: 'It was great because no one was there. After the wedding in New York, we walked across the Brooklyn Bridge and ate lunch.'
With inputs from agencies