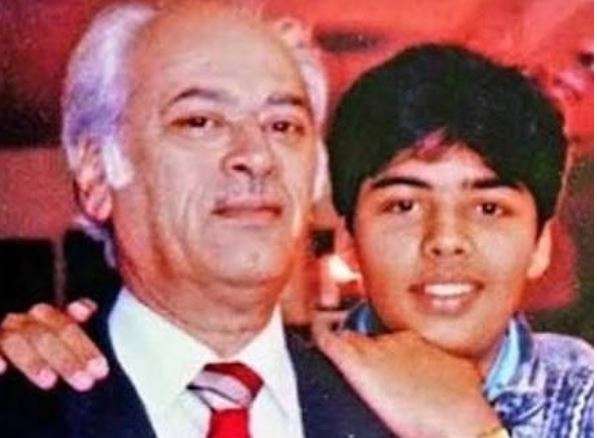 Filmmaker Karan Johar embraced parenthood last year when Yash and Roohi came into his life. From his Instagram pictures and videos, it is evident that the munchkins changed his life completely. From sharing their cute videos and pictures to taking them to birthday parties, the doting dad's world revolves around them. Karan Johar is also deeply attached to his mother, Hiroo Johar. He says she is the 'Queen of my universe'. Recently, in a letter to Hindustan Times, the Ae Dil Hai Mushkil director opened up on his bond with his parents. Karan wrote how his life shattered after the demise of his dad, Yash Johar and later started taking shape after his two kids were born. 
Karan writes, ''I lost my father in 2004 and I'm still struggling with the loss. When my father, Yash Johar, was dying, he kept telling us he didn't want to leave us and go. My mother and I cried a lot. We still do. I walk into her room and even today, I find her talking to his photograph. I have conversations with him, in my head, on a daily basis. He gives me strength and completes me in every way. I lost my father but gained a god for life''. Karan states that his world collapsed when he saw his father's mortal remains being consumed by electric crematorium. The thought continues to haunt him even till date.
Karan further writes that he is growing vulnerable and his heart sinks at the thought of losing his mother. ''Fourteen years have passed since I lost my dad and I am getting vulnerable. I fear losing the only people I am attached to. My mother has been going through health issues and I start breaking at the thought of losing her, which I know is an eventuality we all have to face. I speak to her every four hours and if she doesn't answer the phone, I start having the worst thoughts. If she wakes up late in the mornings, I worry, and barge into her room. Each time she complains of chest pain, my first question is: is it the left side?,'' Karan writes.
KJo's life underwent a major change after Yash and Roohi's birth. Recounting it, he said, ''Before I decided to have children, I use to feel very guilty about not spending time with my mother. She used to get lonely and I didn't know what to do about it. I found myself running away from the sadness of it all, because I felt I should be there for her a lot more. Yash and Roohi have changed that.''
But, he is worried whether his kids will have the same relationship with him as he has with his parents.  ''I may have to contend with the question of whether my children will have the same relationship with me as I have had with my parents. They are my children and I have to trust them with abandon. I hope they never take me to court – as so many are doing today – because that will be a big shock to my system,'' writes Karan.
On the professional front, Karan recently hosted IIFA 2018 along with Riteish Deshmukh. His upcoming projects include Dhadak, Simmba and ambitious venture Kalank.
For all latest news, keep checking our Facebook page