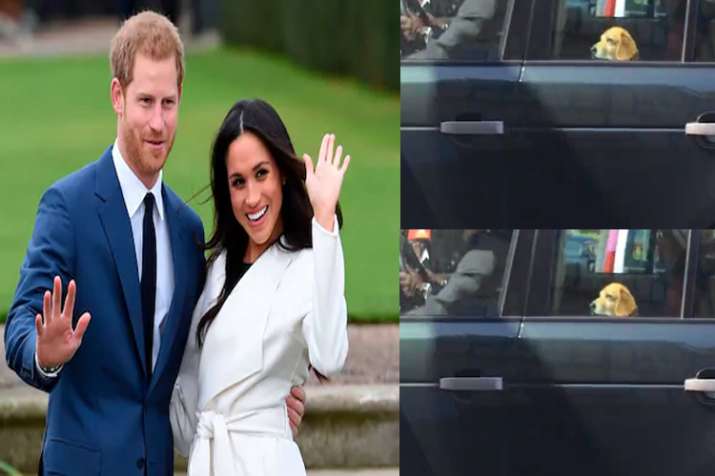 It's wedding day for Prince Harry and Meghan Markle at the iconic St. George's Chapel in Windsor Castle today, months after the couple announced their engagement to the world. The 36-year-old bride will arrive with her mother, Doria Ragland, and then be walked down the aisle by Harry's father, Prince Charles, to exchange her wedding vows at the altar at 1200 noon local time. The wedding will be telecast live across the world. 
Harry and Meghan will be Duke and Duchess of Sussex after their wedding today, Kensington Palace said. 
After an hour-long ceremony, which will include hymns and readings, the newly-weds are set to take a tour of Windsor city centre in a traditional open-top Ascot landau horse-drawn carriage. 
Interestingly, on Friday, Meghan was filmed taking a ride with beagle, who was adopted by her in 2015 and the Queen to the Windsor Castle. Some social media users wrote that its a rags to riches story for the royal pet. It was adopted three years back by Meghan.
Talking about it, Dolores Doherty, who runs A Dog's Dream Rescue said, ''He's so adorable with his long brown ears and big eyes and little round beagle body. We'd shown Meghan another dog that we thought might be a good match, but she saw Guy and immediately she wanted to take him home." 
Meanwhile, on the eve of their wedding, Prince Harry, 33, came out to mingle with the crowds in Windsor and told then he was feeling "relaxed". 
Markle said she was feeling "wonderful" as she arrived with her mother at Cliveden Hotel near the wedding venue. Her mother is the only member of her family to attend the wedding after Markle announced earlier in the week that "sadly" her father, Thomas Markle, would not be walking her down the aisle due to health reasons. 
Meghan's dog Guy in a car with The Queen. Him looking out the window at all the peasants is a mood. #royalwedding pic.twitter.com/JqfcRBSsxd

— Truth hurts (@Jasamgurlie) May 18, 2018
As many as 100,000 people are expected to line the streets of Windsor, around 41 kms from London, hoping to catch a glimpse of the happy couple. A total of 2,640 people are expected to be among the invited guests within the castle grounds. Four Indian women from Myna Mahila Foundation, the Mumbai charity chosen by the royal couple among six others as beneficiaries of donations in lieu of wedding presents, dressed in their brightly-coloured saris will be among this group. 
Bollywood actress Priyanka Chopra, a close friedn of Meghan, will also be present at the wedding. 
(With PTI Inputs)