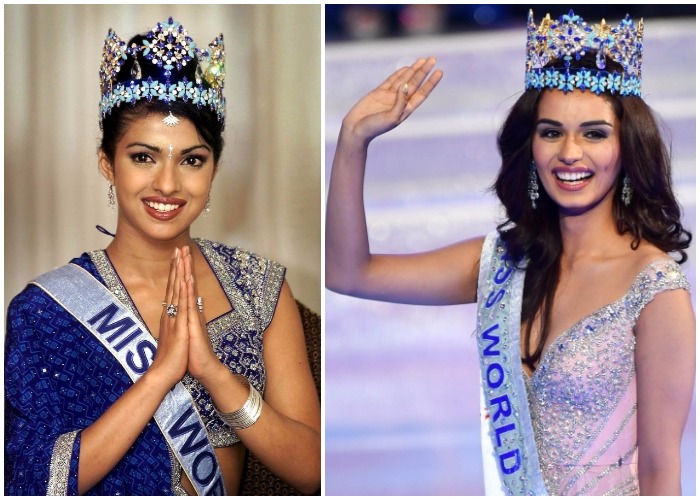 We got so nostalgic when Haryana's pride Manushi Chillar bagged the Miss World 2017 crown. It meant a lot to the country as it ended the 17 year long dry spell of India. Priyanka Chopra was the last one before Manushi to earn the Miss World crown and the latter has repeated the history after nearly two decades. The country is rejoicing and so on this occasion, let's spare few minutes and have a look at the winning answer which earned the Quantico actress Miss World 2000 crown. So, are you ready?
Looking back at her journey from Miss World days, we can clearly give our word for the fact that Miss Priyanka Chopra was and still a voice of reason. She knows what she's talking about and it's a virtue that not everyone happens to possess. Priyanka had really witty answers that earned her the pride.
Watch the video at 8:00 and relive the Miss World 2000 days.
When Manushi Chillar was crowned with the honour, Priyanka Chopra was one of the first Bollywood celebrities who extended their congratulatory message to her. In fact, Piggy Chops gave her a piece of advice, having been there in her place 17 years ago. She advised Manushi to cherish, learn and enjoy the moment. She also congratulated her successor.
And we have a successor!Congratulations @ManushiChhillar on becoming #MissWorld2017.. cherish and learn, and most importantly enjoy it.Bravo

— PRIYANKA (@priyankachopra) November 18, 2017
On Saturday, Manushi Chillar was crowned as Miss World 2017 at a grand event held in China. The 20-year-old woman is a medical student from Haryana. She won the Femina Miss India World 2017 in May this year. The first and the second runners-up were Miss England Stephanie Hill and Miss Mexico Andrea Meza.
Before Priyanka Chopra, Diana Hayden had bagged the title in 1997, while Aishwarya Rai had the honours in 1994. Reita Faria was the first Indian woman to bag the title of Miss World in 1966.