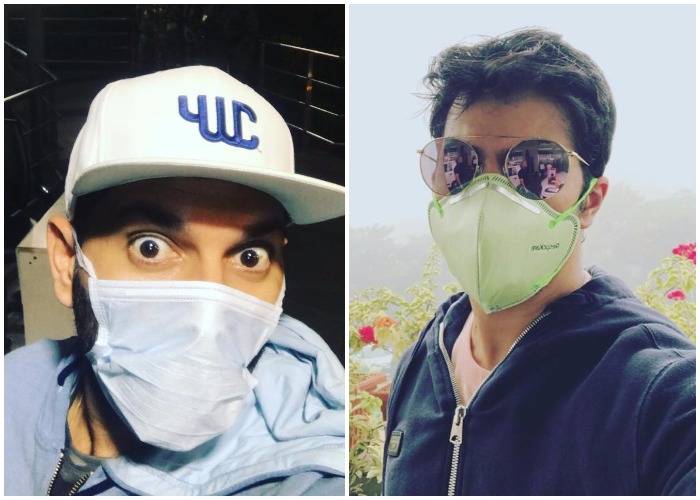 Delhi has turned itself into a ghetto of obnoxious gases this week and it's making headlines these days, not just in India, but globally too. The polluted air of Delhi has left millions of its residents breathless and choked. Many Bollywood celebrities namely Parineeti Chopra and Varun Dhawan also expressed their experience breathing in the Delhi air. Popular faces like Taapsee Pannu, Ayushmann Khurrana, Yuvraj Singh and Varun Dhawan have voiced their concerns over smog in the northern part of our country.
Indian cricketer Yuvraj Singh posted a picture of himself with a mask on Instagram. He captioned the picture: 'When in delhi'
Ayushmann Khurrana had quite a unique take on the matter. He shared the poster of his film Dum Laga Ke Haisha, only this time the protagonist are wearing a pollution mask.
Earlier, Varun Dhawan expressed dismay over grotesque conditions of air quality in Delhi. He wrote: I have clicked this selfie to show you guys what actual smog looks like. I don't want to preach I am equally to blame for this mess as most of the citizens of our great country, but now instead of blaming each other and the government let's change. It's time we go green. #delhichokes
​
He also posted a picture appealing people to take air pollution seriously.
Bollywood actor Arjun Kapoor also spoke volumes about Delhi on Twitter. He was in the capital for few days for his shoot.
I'm here for a few weeks for my shoot in Delhi but it's disconcerting to see the city suffocating. We need to put politics and personal agendas aside stopping the blame game & come together to find a solution otherwise all of us are gonna be affected in more ways than we realise.

— Arjun Kapoor (@arjunk26) November 8, 2017
As per the latest reports, authorities are planning to spray water over the capital to combat the toxic smog. The conditions are expected to get worsened over the weekends. Illegal crop burning in the states surrounding the capital is being held accountable for the sorry state of air quality in Delhi. The transport scheme of odd-even is being re-introduced under which cars with license plates ending in an odd number are allowed on an odd day and even numbered cars the next day.