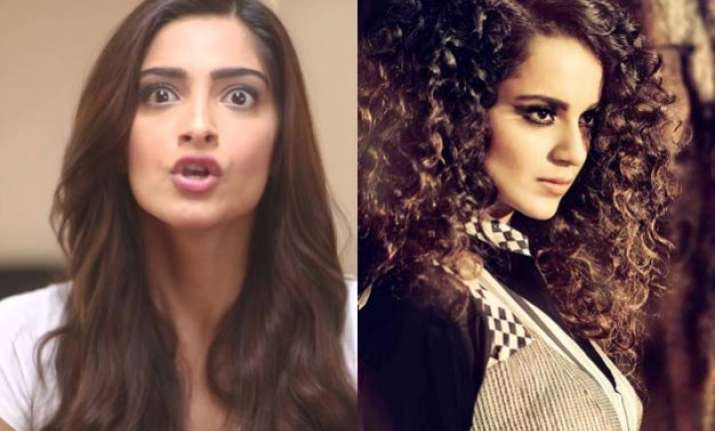 New Delhi: Actress Sonam Kapoor is out and about breaking all notions that surround her. In her upcoming movie, 'Neerja', Bollywood's fashionista will be seen essaying the role of a braveheart flight purser Neerja Bhanot. It seems the character has got into her skin and her recent interview proves it.
Sonam, while speaking to a leading daily, had off-the-hook answers about two other Bollywood leading ladies - Deepika Padukone and Kangana Ranaut. In fact, she had a piece of advice for the latter too.
While giving her opinion on Kangana's stance not to attend award functions, Sonam said, "She deserves those awards, because she is not attending the award shows, she is not getting it and she is kind of damaging herself. I understand the principles for what she is standing for and I completely agree with her. However, for me, Tanu Weds Manu Returns and Bajrangi Bhaijaan are the best films this year and they should be receiving the awards everywhere."
Sonam also drew comparisons between arch enemies Deepika and Kangana. On one hand, she was in complete awe of Deepika but on the other, she felt that Kangana did a better job than her. "The two best performers this year were Kangana Ranaut for Tanu Weds Manu Returns and Deepika Padukone for Piku. For me, the most commercially amazing performance was Tanu Manu 2 because she (Kangana) was amazing and she should have got all the most popular awards everywhere.
Also for me, critically, Piku was the best performance of the year and so was Richa Chadda in Masaan. But I feel Kangana should own it by attending award shows as she would have received the awards," Sonam said.
Speaking if she is expecting any awards for 'Neerja', she said, "It doesn't work for me that way. I have been nominated for last three years for everything that I have done, but I have never made a hoo haa about it, I think it's really amazing when you get award but at the same time I don't think it's important."
Neerja, which is slated to hit theatres on February 19, narrates the real life stiory of Neerja Bhanot. Neerja Bhanot was shot dead by terrorists who hijacked Pan Am Flight 73 in Karachi on September 5, 1986, in her quest to save lives of the passengers.