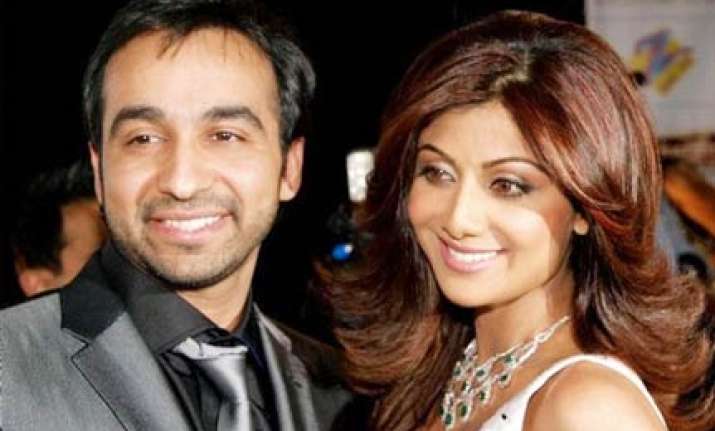 Bollywood actor Shilpa Shetty and husband Raj Kundra will host the first Diwali card party of the season in their new home, reports MidDay. All Bollywood stalwarts except Akshay Kumar have been invited.
The couple who will be celebrating their first Diwali together at their new Juhu bungalow want to kick start the card parties by hosting the first one.
The Kundras started telling industry folk to block the date weeks ago. Everyone from Khans to the Kapoors have been invited.
 
The only couple that has been left out of the guest list are Akshay Kumar and Twinkle, even though they live a mere hundred metres away.
Says a source close to the couple, "This party is actually a housewarming bash. It's just that around Diwali, everyone is in the mood to play card games, so they decided to have that as well." The bungalow got ready only recently.
Even though the couple have moved in, the shifting of furniture, artefacts, paintings etc from their old home, is still underway.
It is learnt that Shilpa is juggling the process of nestling in and planning her Diwali party simultaneously.
The source continues, "They have been stressed over the dropping of their team Rajasthan Royals from IPL and they want to put all the ugliness behind them.
Having a house full of friends and well-wishers is Shilpa's way of bringing in peace and harmony into her new home."
The house-proud Mrs Kundra can't wait to show off her skills as a super hostess.
 
The guest list includes Shah Rukh-Gauri, Sanjay Dutt-Maanayata, The Bachchan family, Ameesha Patel, Salman Khan, Rani Mukerji, Kangna Ranaut and Sajid Nadiadwala-Wardha.
The surprise invitees are  Raveena Tandon Thadani (and hubby Anil) whom Shilpa met and recently bonded with at a filmi party.
 
Both actresses have dated Akshay Kumar in the past. It looks like they are ready to let bygones be bygones. Clearly that does not apply to Khiladi Kumar.
Every year, Jeetendra and Shobhaa Kapoor host a lavish patta party. Their friends and Ekta's groupies are regulars at this party.
This year, the party at Krishna Cottage on November 5 is being hosted by the baby of the family Tusshar Kapoor.
It is a big day for him as his film Golmaal 3 releases a day before. The cast and crew of Golmaal 3 and 50 other guests have been invited.
Ekta's party will be on November 6.
Akshay Kumar and wife Twinkle won't have a big Diwali bash this year as they usually do.
Says a source close to him, "Akshay's movie Action Replayy is releasing on Diwali and the couple will be too busy with the film promotions to plan or enjoy their own party."