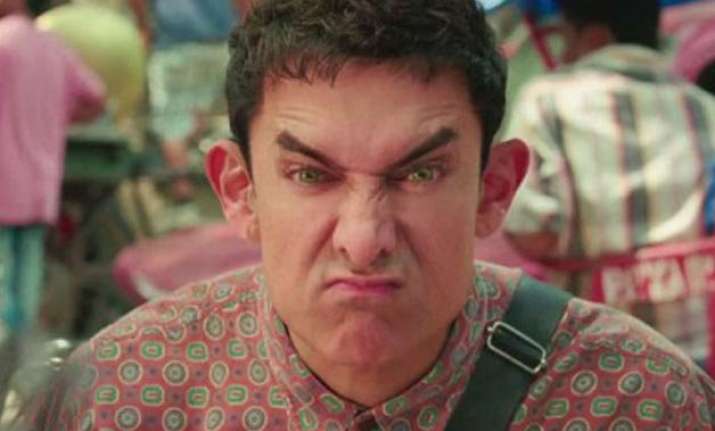 New Delhi: The third week has just begun and PK has already become the biggest grosser at both domestic and international arena which its biggest companion Dhoom 3 took entire one month to accomplish. The Aamir Khan starrer has grossed mind-boggling Rs 557 cr worldwide with sixteen days of its release while on its 15th day the movie already surpassed the Dhoom 3 total of Rs 542 cr gross.
The movie which is building new records with each passing day has on its third Saturday made Rs 8.82 cr to take its domestic nett collection to Rs 293.84 cr.
According to trade analyst and film critic Taran adarsh who is back on social media tweeted, "PK Week 3: Fri 6.85 cr, Sat 8.32 cr. Grand total: Rs 293.84 cr nett. India biz. ALL TIME BLOCKBUSTER.
As predicted earlier, the new club of Rs 300 cr nett will be invented and it will happen by today itself.  "#PK all set to cross Rs 300 cr today [Sunday; Day 17]. Becomes first Hindi film to attain the feat in India. Breakup in next tweet...", wrote Adarsh.
Aamir Khan's is the master of box office as he is the one who opened the previous two clubs. Tweets Adarsh, "#Ghajini first Hindi film to cross Rs 100 cr. #3Idiots first Hindi film to cross Rs 200 cr. #PK first Hindi film to cross Rs 300 cr."
 
On the other hand, Rs 600 cr gross mark at the worldwide level will take a little time, probably this entire week but would surely go achieve that target.
This is remarkable streak considering the flak it faced just after two days of its release for 'hurting religious sentiments'. Initially it was social media where hashtags like BoycottPK and ISupportPK were created inviting debate from all. Later, it's no hidden fact, but from the kind of outrage and physical violence it faced at numerous theatres in different States it looked like the movie's collection might tremble in a big way.
Rare has been occasion that any movie has survived such hassle and Aamir Khan's PK is one of them. The movie's mammoth collection is a silent slap on the criticisers and with support of UP, Bihar and West Bengal governments making it tax-free, the belief of the movie goers over the subject of the satirical-drama has become stronger.
With this, PK, which has around 12 more days in hand at box office, should end up its run in the range of around Rs 325-330 cr nett which would be fantabulous.
Here are the sixteen days nett figures of PK-
Week 1 Fri cr 26.63 cr,
Sat 30.40 cr,
Sun 38.44 cr,
Mon 21.22 cr,
Tue 19.36 cr,
Wed 19.55 cr,
Thur- 27.55 cr,
Week 2 Fri 14.48 cr,
Sat 17.16,
Sun 21.85 cr,
Mon 11 cr
Tue 9.11 cr
Wed- 9.05 cr
Thur- 14.05 cr
Week 3 Fri 6.85
Sat 8.82
Total – 293.84 cr