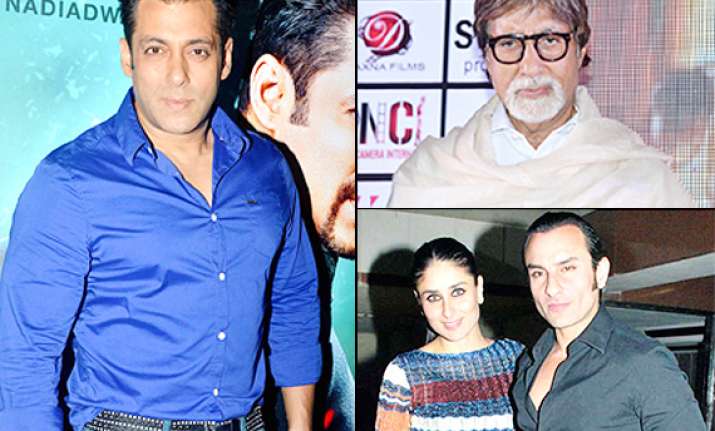 New Delhi: Salman Khan's much talked-about arrogance has led him to trouble now. With his film 'Kick' releasing this month, he has become the latest Bollywood celeb to have been boycotted by the media.
Salman Khan will have to face a clear ban by the photographers till July 25 that also happens to be the release date of his upcoming 'Kick.'
According to a piece of news published in a leading daily dated July 11, 2014, the photographers' union has decided to boycott the actor following his rude and uncouth behaviour during a promotional event of 'Kick' recently.
The news has it that the actor's bodyguards had a spat with photographers and Salman showed no sympathy, instead he showered a quite crude statement and said, "Those who want to cover the event are welcome to stay, the rest can leave if they wish."
The Dabbang actor's fearless attitude surely doesn't seem to be hampered by this rejection as he is showing no worries after the stint. He has taken it to the twitter to express that he gives a damn to such things. Following are his tweets.
Other Bollywood celebs who have been punished by the media in one way or the other include the names of megastar Amitabhh Bachchan, Saif Ali Khan and wife Kareena Kapoor Khan, Shraddha Kapoor and Jacqueline Fernandez.
During a promotional event of her 'Ek Villain,' Shraddha made shutterbugs wait outside and promised to pose but later, as she returned, she refused to get clicked and moved on.
Owing to this, the actress had to suffer a few days ban, even the entire team of 'Ek Villain' was asked by the photographers to pose sans Shraddha in frame during the special screening of the film.
Megastar Amitabh Bachchan had faced an entire media ban constituting no interviews, photos and not even a single mention of him in any kind of media, during his peak time. The media ban lasted for almost a decade. It was the era when Bachchan's biggest hits were going to be on  screen.
 The reason behind the ban that Mr Bachchan had mentioned later in his blog was that the press was informed by his sources that he had brought an emergency ban over the press. Resulting to which, press only banned him for bringing in such an idea.
A few years ago, during the peak time of Saif and Kareena's relationship before marriage, the couple made the media wait for many hours before turning up for a rendezvous. The situation became so worse that when the pair arrived, the media stood up and walked out.
Though Saif did apologize for being late, Kareena didn't show any soft stance and the press debarred the further interaction for that particular event.
Jacqueline Fernandez, who was once made guest of honour at a popular event, arrived much late than the accepted time. And like many other stars, even the lady had to suffer no publicity for that particular event by the media.