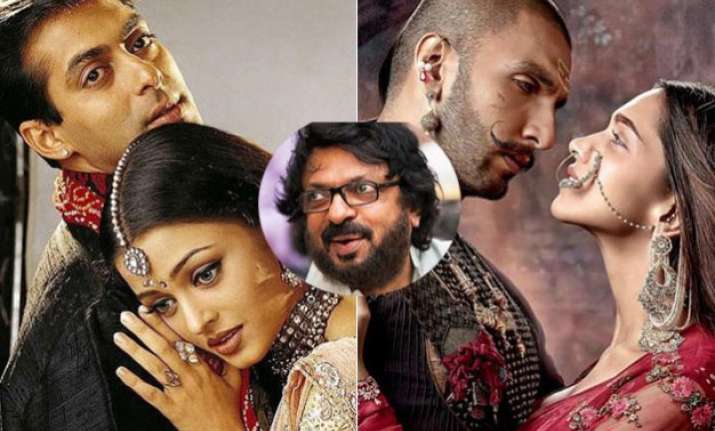 New Delhi: Sanjay Leela Bhansali is one of the ace filmmakers in the industry. His recent flick Bajirao Mastani made it to a grand success and he is receiving all the applause for making a creative masterpiece.
However, if we look close to SLB's movies then there is one highlighting point that catches our eyes i.e. love triangle. Sanjay Leela Bhansali has a long-standing fascination for triangular love equation.
First in Hum Dil De Chuke Sanam (1999), then Devdas (2002), followed by Saawariya (2007) and now Bajirao Mastani (2015), all his blockbuster movies are based on the unrequited love.
Sanjay, unlike other filmmakers, accepts his obsession saying, "I think this will continue all my life. I really don't know why I am so attracted towards it, is it a personal state of mind to go into this zone. But yes I pick up stories where the love story does not necessarily end but for me that's the happiest end the love story could have."
Further revealing his vision of true love Bhansali said, "If Devdas came and died outside Paro's house to see one glimpse of her, then that's a happier ending for me than a far greater ending of a man in love with a woman holding her hand and going into a sunset. That tribute Devdas gave to love, to see that vision of her before he died, that is true love.
Hum Dil De Chuke Sanam had the same premise. I think the incompleteness of these love stories that attracts me immensely. If it's complete, it's not love, I lose interest in it. The greatest stories like Romeo Juliet, Heer Ranjha, Sohni Mahiwal can never be complete because it is the feeling of being in love, not getting that love and then dying or separating... That for me is the highest form of love and it fascinates me. It's pure love. I don't do love stories where the hero or heroine has options or a plan B, I didn't get you so now I moved on to the other person. This doesn't work for me. All the films I have done are of pure unadulterated love."
Sanjay Leela Bhansali's magnum opus Bajirao Mastani, released on December 18, also showcased this form of love where Bajirao and Mastani had to die to be together forever. Sanjay's formula has worked wonders and the movie is unstoppable at the Box office with earnings of Rs 162.35 crore.
While his obsessions are turning out to be big blockbusters on the box office, we can expect him to continue the tradition in the coming future.