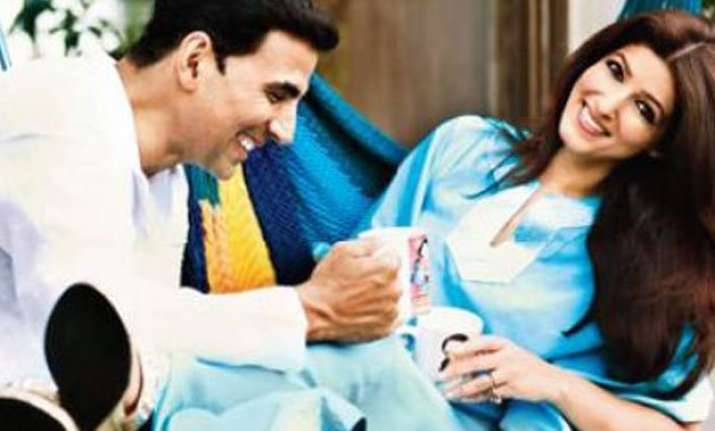 New Delhi: Akshay Kumar has seen 25 glorious years in the Indian film industry. He was only 24 when he debuted with Saugandh in the year 1991. Despite spending more than two decades in Bollywood, Akshay Kumar is as fit as any newbie and has an appeal that doesn't lack lustre.
The actor is staying busy with his next Singh Is Bling and wrapping promotions for this Friday's release, Brothers. A remake of Hollywood movie 'Warriors', Akshay Kumar plays a professor turned into a MMA boxer who fights his younger brother played by Sidharth Malhotra.
Akshay's dedicated nature comes to life on screen and his composure in his scenes is proof of that. Seems like Khiladi Kumar doesn't only enjoy control on sets but off screen too with his wife Twinkle Khanna.
No no. Not in a control freak way!
Twinkle Khanna aka @mrsfunnybones has been surfacing in the news several times because of her articles. Whether it was her rift with Chetan Bhagat or her article on AIB Knockout, they instigated controversies.
Akshay Kumar, being the caring and protective husband, has turned copy editor for his wife's articles. He said "My wife has the wackiest sense of humour and tends to go overboard. I have to ask her to tone it down."
Recalling an incident, Akshay said, "We had just been married when I took her for a film. The producer asked her, 'Bhabhiji kaisi thi film?, and her response was 'It's shit'."
Continuing, he added, "The producer was stunned and never worked with me again. I didn't know how to react and was like, 'Tina why did you have to?' To which she said, "Well it was crap so I said it"
And that is when the 47-year-old actor said, "That's how she is. So I need to control her."
All we can say is Twinkle Khanna is lucky to have a husband who makes sure she steers clear from unwanted controversies.