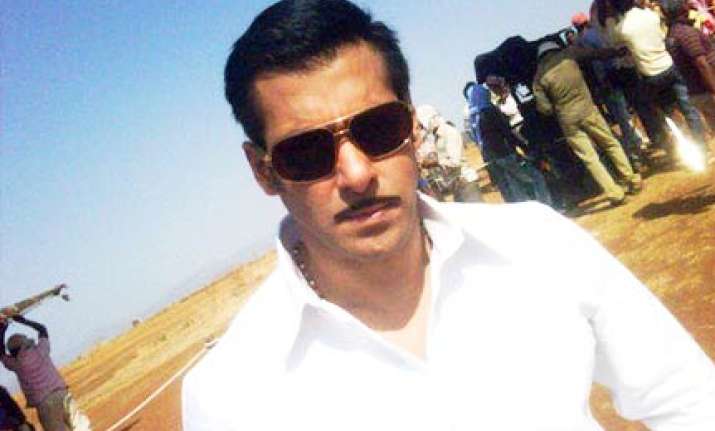 Mumbai: Bollywood star Salman Khan, who essays the role of a fearless cop in the upcoming action flick 'Dabangg' says unlike in reel life, he always dreads losing his loved and dear ones.  
"In my personal life, I am always afraid of losing my loved and dear ones...family and friends. Want everyone to be fit and fine and have a healthy life. Even when a police jeep, which is on patrol, comes in our apartment there is a fear.. now what happened ?. And the same way, if the phone rings in wee hours, we all are worried who is calling at this time," he told PTI.  
Recalling an instance when his brother Sohail rang up in the early hours, Salman said, "I remember once Sohail had called up in the morning hours and started weeping profusely.. I got worried and kept asking him what happened.. but he said he called me to say that he loves me. I yelled at him...saying is this the time to state this ? Don't do this next time.."  
However, the 44-year-old actor says he has nothing to worry about his filmy career.  
"Today, I do not hold any apprehensions or fear about my career as I am there in the industry for 20 years...the younger generation might be (scared)...," he said.  
On his role in 'Dabangg' (fearless), Salman said, "I play the role of a corrupt but fearless police officer, named Chulbul Pandey. He has a bitter childhood but his life changes once he meets his lady love."  
The movie is set in Uttar Pradesh, and primarily deals with the unlawful practices in the state. Produced by Arbaaz Khan and directed by Abhinav Kashyap, the film also stars Sonakshi Sinha as the female lead besides Om Puri, Dimple Kapadia, Vinod Khanna, Mahesh Manjrekar, Arbaaz Khan, Mahie Gill and Sonu Sood in supporting roles. PTI