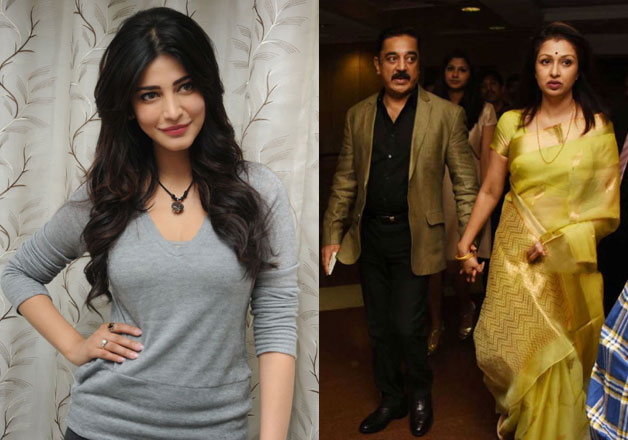 Ever since the news of veteran actor Kamal Haasan's break-up with Gautami broke, speculations are on about what made the couple part ways after 13 years. It was speculated that Haasan's daughter Shruti might be the reason behind his separation with the senior actress.
However, Shruti Haasan's spokesperson has rubbished the reports of her involvement in Kamal-Gautami's split.
The spokesperson issued a statement saying, "Shruti has never commented on anyone's personal life and their decisions. For her, what matters most is standing by, loving and respecting her family - her parents and her sister, no matter what".
It was rumoured that Shruti doesn't share a cordial relation with Gautami and the two were said to be having spats frequently.
Apparently, the differences escalated after the 'Luck' actress expressed her dislike for costumes of her movie 'Sabash Naidu' which were designed by Gautami. The ladies even had showdown on the sets of the movie.
However, Shruti's spokesperson clarified that the actress shares good terms with the veteran actress and issue over the costumes for 'Sabash Naidu' was also resolved professionally.
Interestingly, 'Sabash Naidu' also features Kamal Haasan, who will be sharing the screen space with his daughter for the second time after 16 years. The father-daughter duo were last seen in 2000 release 'Hey Ram'.
Kamal Haasan and Gautami's split came into limelight after the senior actress wrote about it in her blog. Gautami stated that while it was one of most devastating decisions for her, she took the step circumspectly.
Besides, a statement by the 'Hey Ram' actor is also doing the rounds over his split saying, "Whatever gives her comfort and solace is fine by me. My feelings at the moment are of no importance. What matters is that Gautami and Subbu should be comfortable and happy. I wish them all the best and want them to know I am there for them whenever they need me. I am blessed with three daughters — Shruti, Akshara and Subbulakshmi. I consider myself the luckiest father in the world."
However, Kamal has claimed that someone is misusing his name and that he hasn't issued any statement about his separation from Gautami.