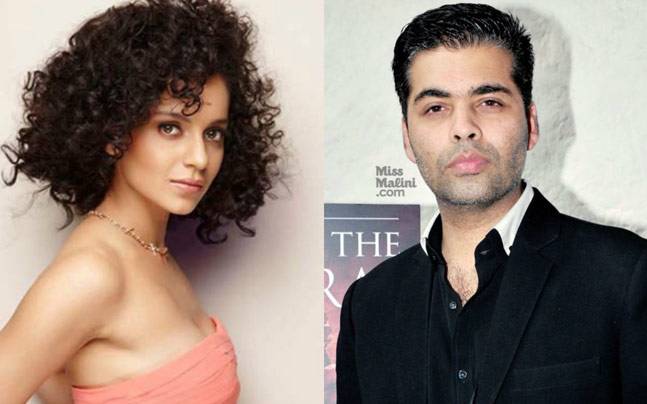 The clash between Kanagana Ranaut and Karan Johar has become BIG and has literally taken the internet by storm. Members of the social media couldn't keep calm at all and, interestingly they chose a favourite and it is none other than "Rangoon" star Kangana.
Twitteratis have come in full support of the actress while targeting the Dharma Productions head honcho, Mr Johar.
When Kangana appeared at "Koffee With Karan" recently, the filmmaker was all praises for the actress. However, when the curly-haired beauty spoke on Karan and, called him the flag bearer of "nepotism", there was a slight hitch which was more than obvious.
So, Karan decided to give it back to the actress and said that Kangana played the "woman card" and, also suggested her to leave the industry if she was so terrorised by it.
Kangana responded with a bang and said that Karan was nobody to tell her to leave the industry.
"I learnt on the job and got paid for it, using the money to educate myself in New York. He is nobody to tell me to leave it. I'm definitely not going anywhere, Mr Johar", the actress said.
The war of words between these Bollywood celebs has become the talk of Twitter and, we must say Kangana won more support as compared to KJo.
Here have a look at the tweets.
According to @DNA #KanganaRanaut 'spews venom'? Really? And what Karan and gang has been doing to her is nectar? Really? https://t.co/TYhIB3fMki

— Vivek Agnihotri (@vivekagnihotri) March 9, 2017
#KanganaRanaut was not playing the victim card, she owned @karanjohar and showed why she's top of the Bollywood game. #GoKangana

— Karuna Nundy (@karunanundy) March 6, 2017
Dear @karanjohar Kiran Rao-Khan was also terrorised by #Intolerance will u give her same advise ?😎#KanganaRanaut @loosebool @Satyanewshi pic.twitter.com/oeocevBqHW

— Faster Fene™ (@fene_faster) March 6, 2017
Nepotism contribution in B"wd -:
1)UdayChopra
2)Abhishek
3) KJ

Non-Nepotism contribution:-
1) #KanganaRanaut
2)Akshay

Now choice is urs.😁😂

— Swati Sinha (@MeSwati001) March 6, 2017
I get #KaranJohar's reaction to #KanganaRanaut. It's not everyday that someone stomps on every regressive convention the industry holds dear

— Hima Bulusu (@amih2507) March 7, 2017
Dear @karanjohar if you can't handle truth, opinions or boldness of actors like #KanganaRanaut it's time you leave the industry.

— Vinay (@vinaykrishnna) March 7, 2017
For someone who is constantly ridiculed for her English, #KanganaRanaut is by far the most articulate actor of our times. And what balls.

— Rangita PritishNandy (@RangitaNandy) March 9, 2017