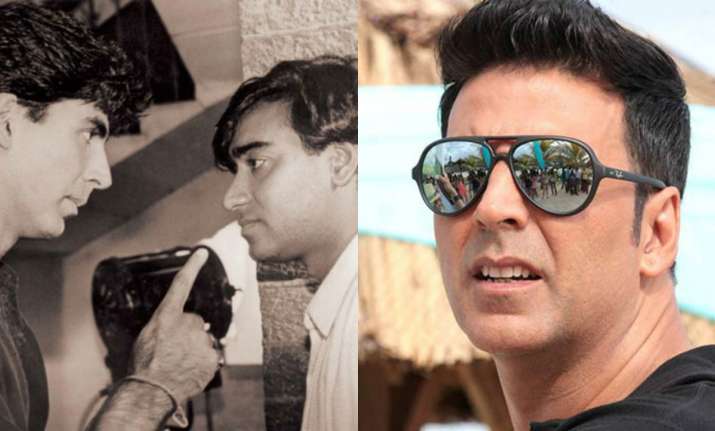 Unlike the Khans, Akshay Kumar does multiple film in a year delivering most of them successfully. There is no doubt why he is called Khiladi of Bollywood. From action flick and comedy to romantic drama, Akshay skillfully gets into the skin of the character. Akshay never confines himself to just one genre. He has explored different subjects through out his career and time and again proved that he is the master. He has his ardent fan following who adores him whole-heartedly and we know why. In an in-depth conversation with mid-day, the actor opened up on his struggling days and rejections in auditions to changing his name. Here is an excerpt from the interview:
Rejection in Jo Jeeta Wahi Sikander
You must not be aware that Akshay Kumar auditioned for Aamir Khan starrer 1993 cult classic Jo Jeeta Wahi Sikander. Akshay went and gave a screen test for Deepak Tijori's role, however, things eventually didn't work. ''And, apparently, I was crap, so they removed me,'' said Akshay.
When Ajay Devgn replaced him in Phool Aur Kaante
​Akshay Kumar was first selected to star in Ajay Devgn's Phool Aur Kaante but was replaced at the last moment. He also sat in on the music sessions at recording studio for 1991 movie but at night he got a call saying he has been replaced.  Akshay told mid-day, ''So at night, I was readying my ice box. You had to do it on your own in those days - paani dalna, barf dalna [placing water, ice]. So I was getting ready for the first day's shoot. And then I get a call, ki bhaiya aap mat aana. Koi aur aa raha hai [You don't need to come for the shoot, someone else is].''
Why Akshay changed his name?
Many know that Akshay's real name is Rajeev Bhatia but very few might know the reason behind this name change. Akshay did a role in Mahesh Bhatt's film Aaj which had Kumar Gaurav in the lead. His name in the movie was Akshay and that got stuck in the actor's head. ''I don't know why, it's not that I thought my name was bad. Rajeev is a very good name. Pata nahi, dimag mein koi chah aa jati hai [something just interests you in your head]. And I just wanted to go, and change my name, and I went to the court in Bandra East and did it. I have a full certificate as proof, said Akshay.
How changing his name became a lucky charm?
The day when his visiting card arrived from the printing press became the turning point of Akshay Kumar's life. During the interview, Akshay narrates the story how he missed his 6 am  flight for a modeling assignment in Bengaluru thinking it to be at 6 pm. After bursting in tears and getting consoled by mom, Akshay went to Natraj studio where he met director Pramod Chakravorty's company's make-up and his life changed afterwards. ''He asked me, "Hero banna hai?" I said, "Haan yaar, banna hai [Yes, I want to be a hero]. He said, "Photo hai [You have pictures]?" At that time, we used to travel with such big photographs, in a huge album. Because directors, and producers, would not want to see a small picture. I don't know what they wanted to see - pores in your skin, or what. But they wanted to see everything closely. So, he took that album inside the office, Pramod Chakravorty saw it. I was called in. Much to my surprise, he gave me my first cheque, signed me up for three films, immediately. Right away. He gave me a cheque of R5000, for the first film, R50,000, for second film, and the third cheque had R1.5 lakh on it. The exact time he gave me those cheques was 6 o'clock in the evening,'' said Akshay.
When Chowkidaar threw him out
Akshay said in the interview that he had not seen much money in his childhood, hence he was attracted towards it. Recalling one of the incidents, Akshay said that he bought a house at the same place where he did a photo shoot and the chowkidaar threw him out. He says it was just a coincidence. ''I still have a photograph of me lying on the ledge, and it's the same place where I live now. I have memories of coming to that beach with my parents. We would spend family time together,'' said the actor.