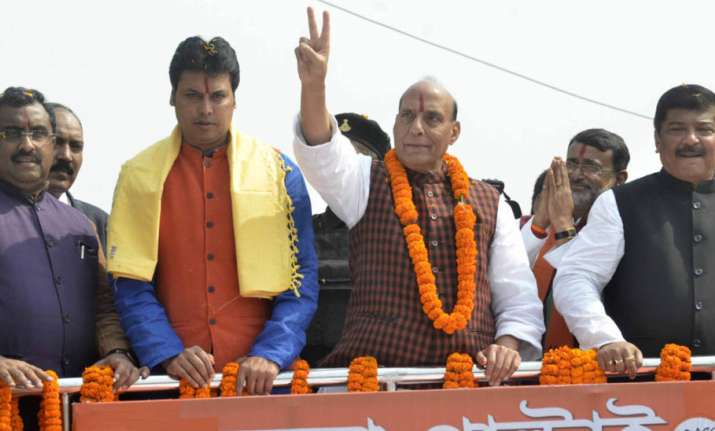 Shattering the Red bastion of the Left, the Bharatiya Janata Party is all set to form government in Tripura which would most likely see Biplab Kumar Deb as its Chief Minister. He has been the state president of the BJP in Tripura since January 7, 2016.
Born in Kakraban, Udaipur in the present-day Gomoti District of Tripura, Deb spent his childhood and completed his schooling in the state before shifting to Delhi for higher studies and Masters. 
Biplab was a former Rashtriya Swayamsevak Sangh (RSS) volunteer and previously campaigned in elections to the Tripura Tribal Areas Autonomous District Council. He is being seen as the top contendor and in a way the most eligible for the post of Chief Minister.
Deb helped bring about the defection of Congress MLAs led by Sudip Roy Barman to the Bharatiya Janata Party in August last year. He led the local BJP into the 2018 Legislative Assembly election and contested from Banamalipur Constituency in Agartala, which was held by Indian National Congress MLA Gopal Roy.
He also faced Communist Party of India (Marxist) youth leader Amol Chokroborty. Biplab Deb led a door to door campaign in his constituency with senior leader Sunil Deodhar.
Deb had also undertaken campaigning on the subject of youth employment opportunities, which he promised to improve if elected Chief Minister of Tripura. He also promised that he would pay 7th Pay Commission to all the employees of Tripura. He praised Narendra Modi during the campaign and stated that he considers him as his political Guru. Biplab Deb brought in key BJP ministers from across India to campaign for the party in Tripura.